The Finger Post Boxing (September 8, 2017)
(Kumamoto, Japan.  August 27, 2017)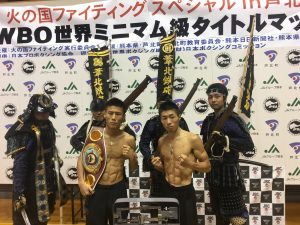 If there is one piece of advice I would give to an aspiring boxing writer it's this: go to as many locations to see fights. Every country has a it's own special relationship with the Sweet Science, and you often learn more about a place by watching their fight fans then you often can by visiting their tourist sites.
And nobody does boxing quite like the Japanese. There is a natural politeness and organization in Japan that surprises the Westerner. But for fight fans it's not just the politeness…it's the special appreciation Japanese boxing fans seem to have towards the fighter. It's a unique form of admiration: not as a warrior but as a master of his craft. They cheer when the fight turns into a crowd pleasing brawl, as boxing fans in Kumamoto did when Tatsuya Fukuhara and Moises Calleros engaged in one of the best mini-flyweight fights in recent memory back in February. But they also seem to appreciate the boxer who treats the ring not as a battlefield but as a chessboard. He is an artist and the ring is his canvas, and whereas the American fight fan might grow impatient with his mastery, the Japanese fight fan will often sit back and simply…appreciate.
And on August 27, 2017 boxing fans in Kumamoto were treated to a true artist of the ring: Kobe Japan's Ryuya Yamanaka (15-2, 4 KOs). Yamanaka, the WBO #1 ranked contender at 105-pounds took on local boy Tatsuya Fukuhara (19-5-6, 7 KOs) the recently crowned WBO mini-flyweight champion and fellow chess master of the squared circle. It was a fight that promised to be less exciting that the one that preceded it, where Fukuhara brawled with Mexican contender Moises Calleros to win the vacant interim title. But in the end, it was intriguing in a different way. As the aggressive Fukuhara chased the fleet footed Yamanaka around the ring one thing was becoming clear: this was a chess match where neither man would be saying "checkmate." This was a fight where a single jab here or a lone pawn there would be the deciding factor. This was a fight where every punch was going to count, even if it wasn't as jarring as the heavy punches of the Mexican brawler from Monterrey who fought Fukuhara in February.
And in the end, it was the flashy Yamanaka who edged a close unanimous decision against the aggressive Fukuhara.  All three judges had the fight for Yamanaka, by scores of 115-113 (Surat Soikrachang and Carlos Ortiz) and 116-112 (Salven Lagumbay). For the record TFP scored the fight 114-114, but with that being said I have no complaint about the official score.  It was undoubtedly a fair decision on a close and competitive tactical fight.  And in the end, the close rounds made the fight a difficult one to score.  All three official judges were in agreement for only three rounds: round one (which all three gave to Fukuhara), round seven (which they all scored for Yamanaka) and round ten (which they also scored unanimously for Yamanaka).
Nonetheless, there was no question that Yamanaka boxed brilliantly and although majority of the rounds were won by the slimmest of margins, it was also clear that Yamanaka did frustrate the champion with his hand speed and defense.
The opening round immediately set the stage for the night as Yamanaka used his superior footwork to keep away from Fukuhara. Although Yamanaka caught Fukuhara upstairs with a picture perfect counter as Fukuhara came in, it looked like the dogged aggression of Fukuhara might carry the night as the opening round came to a close. But by round two Yamanaka started to better gauge his distance from Fukuhara, staying just outside of the punching range of Fukuhara while catching the local boy with a pair of overhand rights. Yamanaka continued to give Fukuhara angles in the second before a straight right landed for Fukuhara late in the round, seemingly putting the second round back into play. Nonetheless Yamanaka boxed well in round three and four, although Fukuhara did seem to rattle Yamanaka with a solid combination upstairs in the closing minute of round four. Fukuhara seemed to find his range again in round five, closing the gap ever so slightly. But the tricky Yamanaka revealed another weapon in his arsenal, as he landed a counter uppercut as Fukuhara tried to bull rush his way inside. Fukuhara seemed enraged and fired back with gusto, pounding away at the body of Yamanaka with some effectiveness. But the effective body attack was not utilized enough in round six, as Fukuhara seemed determine to try and sneak in overhand rights instead. Although Fukuhara seemed to bother Yamanaka on several occasions in the sixth with the body attack Yamanaka, he soon began to resemble to bull against Yamanaka's matador: chasing the sick boxing Kobe boxer but never quite reaching him. Round seven would go on to be Yamanaka's best, landing right hands against a bull rushing Fukuhara while using superior footwork to frustrate the champion. But although Yamanaka continued to box well in round eight Fukuhara seemed to goad him into a brawl of sorts by the end of the round. It was enough to prompt some ringsiders from asking if Fukuhara had finally worn down his slick opponent. But in round nine it was Fukuhara who showed early signs of fatigue as Yamanaka outworked and outboxed him. Although Fukuhara rallied in the closing seconds of the ninth round, it appeared to be too little, too late. Yamanaka continued his brilliance in round ten, catching Fukuhara on several occasions with solid shots as the aggressive Fukuhara marched in. Although Fukuhara seemed to rattle Yamanaka in the closing minute of the round, there was no question that Yamanaka was boxing well and that he had edged the last two rounds going into the championship round.
But the warrior who brawled with Calleros back in February began to emerge in the corner after round ten, as Fukuhara yelled in the corner and came out in round eleven with more aggression. Fukuhara still walked into some counter punches, but his aggression seemed to steal the eleventh. It seemed like anyone's fight going into round twelve, and both fighters fought accordingly. Yamanaka boxed brilliantly and energetically, which Fukuhara stalked relentlessly. A solid right from the champion seemed to rattle Yamanaka midway through the round, and Fukuhara literally ran after Yamanaka to determine if he was hurt, but Yamanaka was able to step aside from danger. Fukuhara then returned to the strategy that could have turned the fight…had he employed it from the early rounds on: the body attack. Several hard body shots seemed to briefly rattle Yamanaka, and although the body attack did open up Fukuhara to hooks upstairs, there was little question that when Yamanaka was hit to the body it had an impact. Yamanaka threw a left hook upstairs but Fukuhara, looking to make a statement as the fight came to a close, threw caution to the wind. Both fighters threw punches with gusto as the bell sounded ending the fight with Fukuhara seemingly stealing the round.
In the end, the judges went with the slick boxing Yamanaka, who clearly fought the fight of his life against the champion. The baby faced 22-year old from Kobe now becomes the third consecutive Japanese boxer to hold the WBO mini-flyweight title. At 15-2, with only four knockouts it is clear that he isn't a knockout puncher. But he is one of the more impressive boxers in the division and does possess impressive hand speed and ring generalship. But as Fukuhara can attest, winning the title is often not as hard as holding onto the title. Yamanaka impressed boxing fans back in November of 2016 when he defeated veteran Merlito Sabillo for the OPBF minimumweight title by unanimous decision. But he also was upset by lightly regarded Roque Lauro (13-22-5, 3 KOs) of the Philippines just three months before he won the OPBF belt. He also suffered a stunning loss to Kenta Shimizu (8-5-1, 4 KOs) by way of first round KO back in 2013, although in his defense, he was only 18 years old at the time. The #2 contender in the WBO is undefeated Panya Pradabsri (18-0, 10 KOs) of Thailand. Pradabsri has already won the PABA title and the WBC Asia Boxing Council belt and would have to be seen as a very tough opponent for the young champion's first title defense. At #3 is another undefeated prospect in Robert Paradero (14-0, 9 KOs) of the Philippines. The 21-year old Filipino won the WBO Asia Pacific Youth title back in October of 2016 against Ronie Tanallon with an impressive decision, but unlike with Pradabsri it is a little tougher to gauge how tough of a contender he is as the rest of his resume is a little thinner. Although the WBO has him ranked at #3, Boxrec.com lists seven other fighters from the Philippines higher, and has Paradero ranked at 33 in the world at 105-pounds. Nonetheless he would be a dangerous opponent for Yamanaka's first title defense. Just because he hasn't fought as many solid guys as Yamanaka doesn't mean he isn't a dangerous opponent.
At #4 is another Filipino in Vic Saludar (15-3, 9 KOs). Saludar already was stopped in 2015 in his first title fight against Kosei Tanaka, and has recently lost to Toto Landero (8-1-2) back in June. Saludar looks to be Yamanaka's safest option for his first title defene, at least on paper. Below Saludar is Puero Rican Janiel Rivera (16-2-3, 10 KOs) who was stopped in three rounds in his only other world title fight back in 2014 agaisnt Adrian Hernandez of Mexico. Rivera wouldn't be a bad option for Yamanaka either, although it is doubtful that Yamanaka would be able to test the chin of Rivera like Hernandez did. At #7 is Moises Calleros, a fighter that is arguably the most dangerous man in the division. Although Calleros could theoretically be David Tua to Yamanaka's Chris Byrd, it is just as likely that the hard punching Mexican could test the chin of Yamanaka just like Kenta Shimizu did back in 2013. In the end it would also be an inadvisable fight for Yamanaka. At #7 is fellow Kobe native Reiya Konishi (14-0, 5 KOs).  Although the all Kobe battle would seem intriguing, it almost certainly wouldn't happen as Konishi is a stablemate of Yamanaka.
At #8 is Namibian Japhet Uutoni (12-2, 5 KOs), who was knocked out in his last fight back in February by undefeated Angel Acosta.
But there is one other option for Yamanaka for his first title defense: the former champion himself. Tatsuya Fukuhara will most likely enter the rankings now that he is no longer a world champion and another all-Japan battle (this time in Kobe) could be the perfect optional title defense for Yamanaka. He already knows he can beat Fukuhara, but the fight was close enough to warrant a rematch. An option defense may be the best step for Yamanaka, who will most likely be looking at a mandatory defense against the Thai contender in early 2018.