If you haven't already guessed by now, I'm a big fan of boxing' smallest weight division.  And I won't lie; I'm a fan of Kumamoto's Tatsuya Fukuhara (19-5-6, 7 KOs).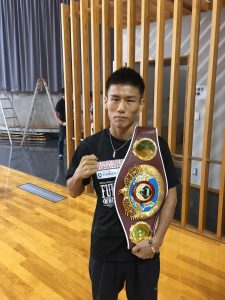 He's a throwback: a fighter who wasn't handed anything on the way up and clawed his way to a WBO world title thanks to grit, determination, and perseverance. He's an exciting fighter whose fight with Moises Calleros was arguably one of the best 105-pound championship fights of all time.  He may not have a flashy record, but in a way that only adds to his appeal.  How many 18-4-6 fighters can you name who not only earned a title fight but then capitalized on it?
For Fukuhara, his loss to Ryuya Yamanaka last month ended his brief title reign, but there is already signs that the gritty former champion may have another shot at a world title before long. The latest WBC rankings have just been released and Fukuhara is currently ranked #10 in the world. This sets up an intriguing matchup that I for one would love to see: a clash between the former WBO champion and the reigning WBC minimumweight champion Chayaphon Moonsri, aka  Wanheng Menayothin. Moonsri has an impressive record of 48-0, 17 KOs, but as it stands now he isn't even ranked as the top fighter in the division. According to Boxrec.com that distinction goes to his countryman, WBA 105-pound champion Knockout CP Freshmart.
Nonetheless Moonsri is closing in on tying Rocky Marciano's mark of 49-0 and may surpass Floyd Mayweather's 50-0 by early 2018. He does show a fondness for non-title fights to pad his record (his last fight was a six rounder against journeyman Jack Amisa back on August 25th. But for fight 49 and 50 he would be better served fighting a higher profile fight and as it stands now Fukuhara fits the bill better than anyone else in the top ten. A former champion with a reputation for fireworks is just the kind of fight that could have the world paying attention as the undefeated Thai champion attempts to tie one of boxing's most prestigious records.  Here's hoping for one more title fight for the Kumamoto native. In the end the biggest winner of a Moonsri-Fukuhara fight will be the sport of boxing.