The Finger Post Travel, October 30, 2017
(Roseau, Dominica, October 16-17, 2016)
In the days before the internet ruined all of our favorite urban myths (so John Denver wasn't a sniper in Vietnam?) I remember hearing about a French guy who flipped out on a Greyhound. Now as a guy who rode a Greyhound from Flint Michigan to Washington D.C. once I could totally get why someone would flip out over being in a Greyhound. But in actuality the reason was he was freaking out over the length of the trip. Basically, he (according to the urban myth) bought a ticket from New York to…I don't know…San Francisco. And after 40 hours or so when he realized he was only in Omaha he went off the deep end and tried to shoot the gremlin tinkering with the brake lines outside his window.
Now don't get me wrong, I am assuming it's about as true as John Denver sniper story. But you can't help but…wonder.
For one thing, every Greyhound bus I've ever been in seems like it is halfway through a hatchet job by a Twilight Zone gremlin. And second…well, the United States is big. If you are French you already can see it's big on a map. But maps sometimes don't prepare you for real life.
Dominica is like that.
I had a conference in San Juan, Puerto Rico in October of 2016. I arrived in San Juan a day early and decided to spend a little time exploring the Caribbean. I didn't have much time; I'd be flying out on October 16th and flying back the next day. But I figured that would be enough time to either sit on a beach for a few hours or wander through a small capital city on one of the island nations that make up the Lesser Antilles. I had a soft spot for Dominica and found a ticket with Liat for $213. It seemed reasonable…sure I'd be spending around $300 for a day in Dominica. But I justified it by thinking about all the stupid things I ever paid $300 for.
The flight left at 2PM on October 16th, and although I could understand why so many people hate LIAT, I myself had a good flight to Dominica. It was a short one hour and 45 minute flight to Douglas Charles International Airport and although I had to fly back at 10:45 AM, I figured I'd have enough time to explore the capital of Dominica: Roseau. From what I could tell it was a small city and it hardly seemed unreasonable to think I couldn't see a fair portion of it in a day.
So let's get back to that French guy on the Greyhound.
As an American we sometimes have the same response to new places as that mythical French backpacker…only in reverse. We know what 18 miles means in the United States. It's a trip to Walmart. It's picking up the kids from daycare. It's a morning commute of no more than 30 minutes. So when we look at a map of Dominica, see that it is only 18 miles from one end of the island to the other we instinctively end up on I-75 or I-10 calculating distances as if Dominica had a highway running through it. I saw 18 miles and I sort of ended my inquiry there. How long could it possibly take to get to the airport to the Fort Young Hotel in Roseau? It was only 38 miles away after all.
Well, as it turns out…about 2 hours and $80 each way. I booked a room at the Fort Young Hotel since I was able to book it at a discounted rate on Hotels.com (it ran me $125) and I did not anticipate an extra $160. My day trip to Dominica was now in the $500 range…and I still hadn't budgeted food in yet.
Fortunately for me I befriended a Canadian vet on the plane ride over and she hooked me up with a ride to my hotel for free (and even got my driver to cut me a deal on the return trip the following morning).
And it was an awesome drive. Julie was a great travel partner and the drive was, well, it was an adventure. The roads were less than stellar and I couldn't help but wonder why they put the airport so far from the city.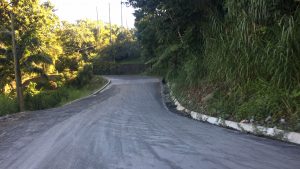 But that just added to the overall fun of the trip over to the hotel. Unfortunately by the time I reached my hotel the sun was going down. And with me having to budget two hours to get back to the airport I was now looking at having to leave at around 7AM. I was bummed. This was looking like a wasted trip. Nonetheless I checked into my room and was more than happy with the Fort Young Hotel. It had a friendly staff and an amazing view of the ocean.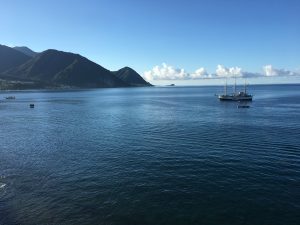 My ocean front room would have been great…had I arrived a few hours earlier. I grabbed a sandwich at the bar and went for a quick dip in the pool before I decided to call it a night. I was going to have to see Roseau between 6 and 7 AM tomorrow, which meant I would need my rest.
The day in Dominica wasn't as bad as you would expect. I woke up early, sat on my balcony for a spell and looked at the ocean, and then hit the city. Now obviously everything was closed, although I did get a chance to buy some souvenirs from a few early morning vendors. I decided to pass on the botanical gardens (we drove through it on our way to the hotel and I realized it was something I didn't need to really visit) and instead walked next door to the Office of the President before heading a few buildings down to St. George's Anglican Church before walking over to the Neg Mowon Emancipation Monument.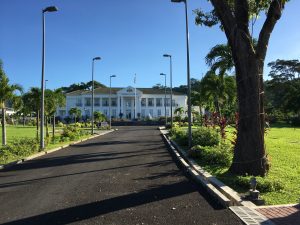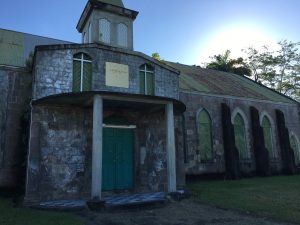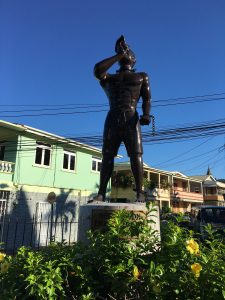 A quick walk to the docks followed and then a quick stroll to what I assumed was the French quarter before I had to head back to meet my ride.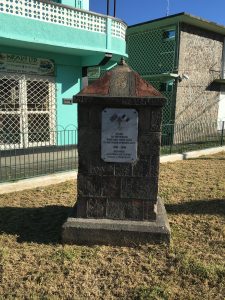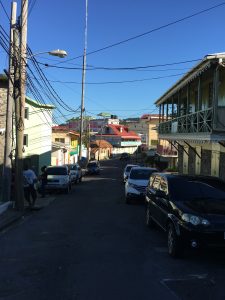 But before we left town there was one more stop I wanted to make. I hadn't had traditional "Dominican" food and I didn't want to leave the country without saying I tried something, anything, Dominican. So I had my driver stop at the Sukie's Bread shop.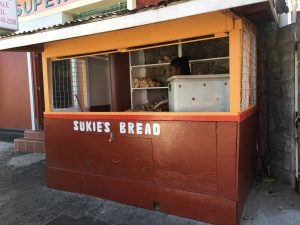 I wasn't sure what Sukie's Bread was, but I saw it everywhere as we drove into town and I figured this would be my one chance to try something 100% Dominican. In the end…it was bread.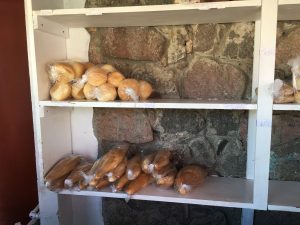 We took the long trip back to Douglas-Charles International Airport where I was told I would have to pay an exit fee of $23 to leave the country. So my trip to Dominica, with its one hour of wandering, ran me about $500.
I know I like to wander, but in hindsight I should have probably researched a bit more for this trip. In the end, if you go to Dominica…plan on spending more than an afternoon there.  The recovery from Hurricane Maria is underway and a quick search on Hotels.com shows that the Fort Young Hotel is back in business, and a stay there alone is almost worth a trip to Dominica.
Read more Finger Post travel stories here!