The Finger Post Travel (November 2, 2017)
(Black Rock Village, Tobago, Trinidad and Tobago, October 26-29, 2016)
"You should go to Tobago.  It's so much nicer."
It was a random, passing statement by some random guy at the hotel bar/restaurant in Georgetown, Guyana…but it was enough to hook me.  I had spent several days in Georgetown and had missed the opportunity to visit Suriname due to difficulties in getting to the embassy for my visa.  I was planning to go to Trinidad two days later and I was just now trying to put together an itinerary for my two and a half days in Trinidad.  But Wikitravel had me nervous.  The airport was 45 minutes away from the city…and cabs were supposedly very expensive.  A quick review online indicated I could be paying $20 to get to the city, which didn't seem that bad.  But it was nonetheless going to be $40 right off the bat.   But this random guy in the hotel bar/restaurant had given me an idea.  I had another option…skip the cab and just get on another plane.  A second online search revealed that a round trip flight to Tobago with Caribbean Airlines was only $48: just a few dollars more than the cab fare to and from Port of Spain.
I know it's always dangerous to get travel tips from random guys you meet in a hotel bar: that's how people end up in Branson, Missouri.  But this guy seemed legit.  So I took a leap of faith and decided to go with Tobago with the hope that when I got there I wouldn't be stuck spending my two days on Tobago watching Yakov Smirnoff's latest comedy tour.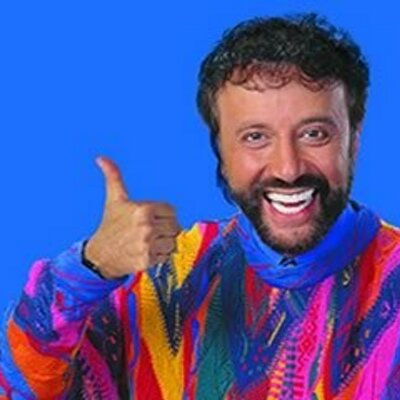 My flight into Trinidad was with LIAT, and my flight to Tobago would be with Caribbean Airlines.  I was somewhat worried about the connection as I had to pass customs and switch gates.  But all in all it was a fairly smooth process.  Still, it was getting late, and I had spent a fair amount of time in airports.  I was ready to get to my hotel and call it a night.
I booked three nights at the Grafton Beach Resort in Black Rock.  It was $112 a night on Hotels.com, but I was willing to splurge a bit.  I enjoyed my stay at Julian Guest House in Georgetown.  It was cheap and it had character.  But I was ready to upgrade to something a little nicer to close out my trip.  The Grafton Beach Resort had a pool, continental breakfast, and it was right on the beach.
It also had something else I wasn't expecting when I booked it: privacy and lots of it.  I guess late October isn't the high season in Tobago.  It was a month after the turtle nesting season ended and right in the middle of hurricane season.  After checking in I made my way to the room and was pleased with what I saw.  The bed look comfortable and I had a nice view of the ocean.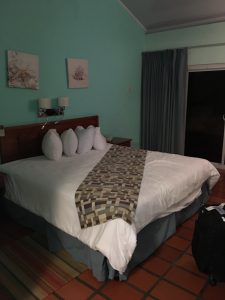 But it was when I woke up that I realized that I was one of only a few guests who were staying in the very spacious Grafton Beach Resort.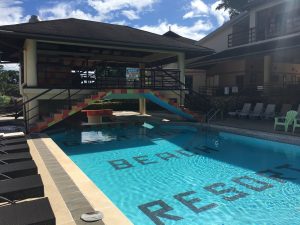 At breakfast I was the only person in the restaurant.  I grabbed some salt fish and bake, something I was told was the most popular breakfast in Trinidad and Tobago.  I tried it when I was in Guyana, and was curious to see how Tobago's salt fish and bake compared to Guyana's.
In the battle of salt fish and bake…Guyana won the opening salvo.  Not that the breakfast wasn't good or the salt fish and bake at the Grafton Beach Resort wasn't tasty…I just think Guyana edged it by a few inches.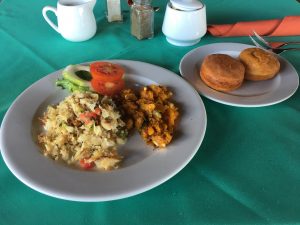 Salt fish…like football…is a game of inches.
So for my first day in Tobago I decided to enjoy the pool and wander into the nearby tourist site of Fort Bennet.  It was a short 20 minute walk, and it gave me the opportunity to walk down the beach where I befriended the local beach dog.  Fort Bennet was initially built in 1680 by the British to protect the settlers.  But they were quickly driven out and it wasn't until 1780 that Fort Bennet was back in use, this time against the French.  By the time I walked up the hill to Fort Bennet I could see why they built it there.  It was elevated and provided an amazing view of the bay.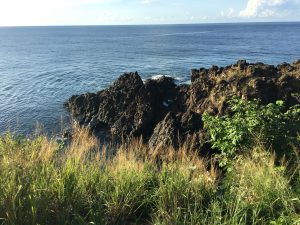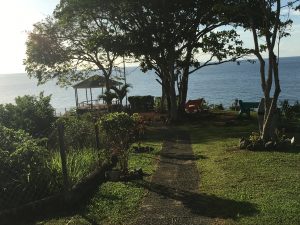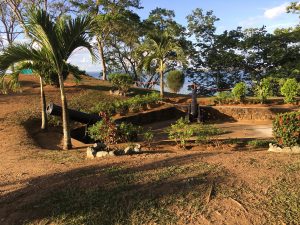 I remained the only tourist there so I took some selfies and eventually made my to the small village of Black Rock, a short walk of about 15 minutes.
There wasn't much to see in Black Rock, but I still was glad I made it into the village.  There is a certain vibe when visiting small villages in the Caribbean.  It's mellow and relaxed…and authentic.  After Nassau I realized that it was entirely possible to visit the Bahamas and not really see any of it other than Atlantis.  I didn't want to do that in Tobago and Black Rock gave me a glimpse of a more authentic Tobago than I would have got if I stay at the Grafton Beach Resort writing "all work and no play makes Jack a dull boy" over and over again on my laptop.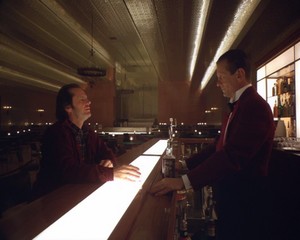 The first stop in Black Rock was the Church of the Transfiguration Anglican Church followed by the Black Rock Moravian Church, built in 1869.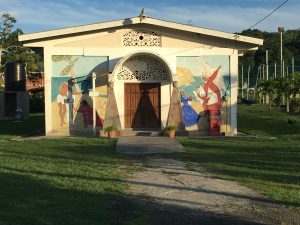 The Black Rock Moravian Church was listed as a cultural heritage site by the National Trust of Trinidad and Tobago and it's was very much a unique building.    Although both churches were closed I enjoyed visiting them.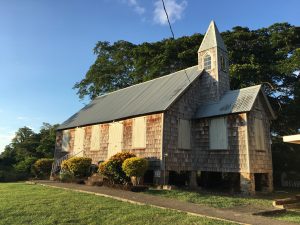 The Courland bay Heritage Museum was next, and like the Black Rock Moravian Church, was closed.  I decided to stop at a grocery store and picked up some curry powder and some dried fish before making my way back to the hotel where I stopped off and picked up some polourie and geera from a lady selling food outside the local bar.  I never tried polourie or geera, but I figured anyone calling herself the "Geera Queen" could be trusted in all matters geera.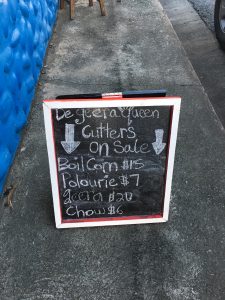 Well, I couldn't complain about the geera or the polourie…but the salted fish from the grocery store was something I could have skipped.  Oh well, not every meal on the road will be a knockout.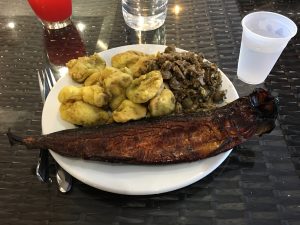 The following day I spent mostly on the beach and at the pool before I closed out my day in Tobago with a shallow reef dive of 40 feet, my first in close to thirteen years.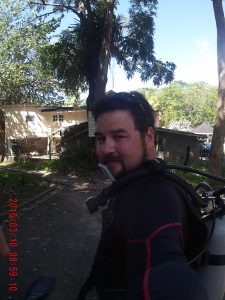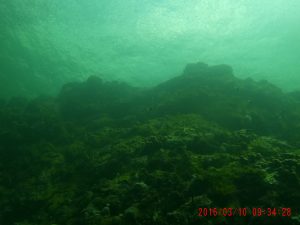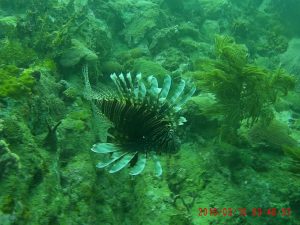 It was the perfect way to close out my two and a half days in Tobago.  But it was time to fly back home.  I had a long stretch ahead of me: Tobago to Port of Spain to San Juan, Puerto Rico to Newark to Houston to Hobbs.  But at least I would make my long trip home well rested from my time in Tobago.
Read more Finger Post Travel updates here!