The Finger Post Travel (March 11, 2018)  
There are tough towns, and there are tough towns.  Places that just make you think of gritty, hard, salt of the earth type of people who eat adversity for breakfast.
Philadelphia.  Detroit.  Barrow, Alaska.
And Kumamoto.
I know, I know.  Japan doesn't feed into the narrative of a hard and resilient place.  Sure you can get free katana lessons in Nikko, which is pretty badass, but free katana lessons aside, it tends not to fit that narrative.  And Kumamoto, Japan doesn't exactly sell it self as a city full of some of the toughest SOBs you'll ever meet.  It's like most Japanese cities.  Clean, polite, and hospitable.  They even adopted a loveable bear as their mascot, and oddly enough this bear has become something of a national phenomenon.  Needless to say, you could almost picture the scowl on Clint Eastwood's face when you first see Kumamon the Bear.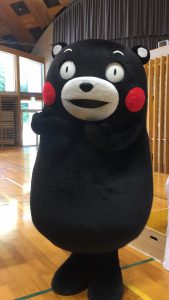 But underneath it all is a city that has proved itself more then able to step up in the face of adversity.  A city of hard ass people who refused to be held down.  A city, dare I say, of champions.
I know this may feel forced, but stay with me here…
I was in Japan for the second time in 2017 when I flew out to cover the WBO mini-flyweight world title fight between Tatsuya Fukuhara and Ryuya Yamanaka.  I had been in Japan in February, to cover the Fukuhara-Moises Calleros fight, and it was moment that left an indelible mark on me as a boxing journalist.  And it was my first introduction to the city of Kumamoto, which was recovering from a devastating 7.3 magnitude earthquake just ten months prior.  I wasn't sure what to expect when I arrived, I've been to cities on the mend before and Kumamoto (I assumed) would be similar.  But Kumamoto showed me something…something special.  The city rallied behind their contender, Tatsuya Fukuhara.  He became the face of the city, overcoming adversity.  Made homeless by the earthquake, Fukuhara became a symbol of the resiliency of the city and seemed to exemplify it in his career.  He did well early in his career, going undefeated in his first seven fights.  But as the competition got tougher the losses started peppering his record and in December of 2013 it looked like the Cinderella story was over: he lost a lopsided six round decision to a debuting fighter named Takuma Inoue.  I had covered boxing for many years, since 2000, and I could not recall an instance where a fighter clawed his way back from such an inglorious loss.  Contenders don't lose to rookies.  Period.  There is a reason why Olympians never fight for world titles in their first fight or even take on ranked fighters in their first fight (Vasyl Lomachenko aside).  Because it is a recipe for disaster.  Fukuhara lost to a kid who never even fought before as a pro.  How could any fighter bounce back from something like that?
But I digress, this isn't a boxing story…it's about the city of Kumamoto.
Fukuhara would go on to win the world title in February of 2017 in a fight that could have been featured in the movie Rocky.  I got my first taste of Japan, and of Kumamoto, that month and with the newly crowned champion making his first defense of his belt I had the opportunity to go back.  I was back in Kumamoto to witness the comeback kid, and the comeback city, push the envelope just a little further.  I was back to see if the city that lost to a rookie only to win the world title could continue to overcome the odds.
I bumped into referee Eddie Claudio and judge Carlos Ortiz Jr. at the airport waiting for a connecting flight out of Tokyo and we were soon picked up by Loren Goodman, an American poet who relocated to Japan and then Korea and who was working closely with the promoter of the fight: Mr. Kenya Honda of Honda Fitness Boxing Gym.  Interestingly enough, my arrival in Kumamoto had me staying in the nearby suburb: Yatsushiro.  I would spend a few days in the Select Royal Yatsushiro.  I already discovered that I have something of a love-hate relationship with hotels in Japan.  I love the service, hospitality, and cleanliness.  But I hate the fact that I'm six inches too tall and fifty pounds too heavy for everything in the country.  But the Select Royal was very much on the love end of the spectrum.  The room, while still small by American standards, was positively spacious by Japanese standards and the continental breakfast was absolutely incredible.  Judge Eddie Claudio was a great travel partner as he proved to be very adventurous and he was determined to try a staple breakfast of Japan: Nattō, or fermented soybeans.  His adventurism was contagious and after some lighthearted assurances from Loren, I decided to try what I was told was the best way to eat nattō…on rice with a raw egg.
After the raw meat in Ethiopia I think fermented soybeans shouldn't have had me so skittish, particularly considering I'm half Korean, but to the westerner it takes some getting use to the smell (which I would compare to rotten eggs).  But hey, If Eddie Claudio was willing to jump in head first then who was I to back down.  Besides, what sort of boxing writer would I be if I didn't try raw eggs once in my life.
I ended up enjoying the Goodman Special, a name I gave to the breakfast of nattō on rice topped with a raw egg (since I would discover it wasn't really a common breakfast in Japan after all but rather a personal favorite of Loren) and decided I would stick with it for the duration of my time in Japan, although I couldn't really say if I liked nattō since the raw egg sort of covered the taste up.
With breakfast behind me and a morning to kill before we went to the weigh-in I decided to explore Yatsushiro and get a quick run in to start off my day.  I was not sure where I was going, but I figured a short run of a little under a mile would give me a chance to see a little bit of the city.  To my delight, I stumbled on the Yatsushiro Castle Ruins, which was an awesome and unexpected discovery.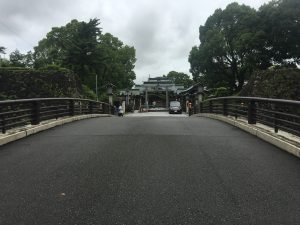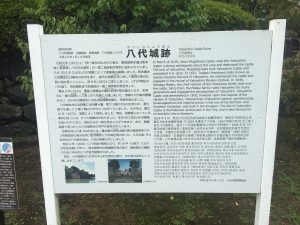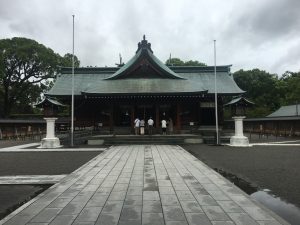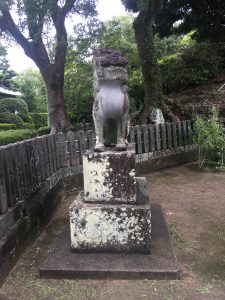 The ruins were enough to get me to end my morning run and enjoy the tranquility of the uncrowded site, and I spent about half an hour just wandering around before I made my way back to the hotel.
From there we caught a shuttle and made our way to the Shiroyama Sky Dome in Ashikita-gun, where the fight would take place that weekend.  It was a scenic drive of around thirty minutes and I realized that the venue would be an ideal one for boxing.  Although somewhat far and out of the way, it was a nice sized auditorium that that would be perfect for capturing the energy of the event.  And located on top of a hill overlooking the town it also provided me some stunning views while we waited for the event to kick off.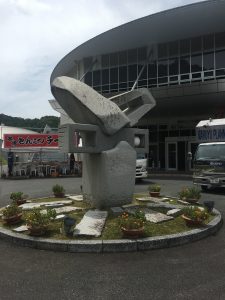 We entered the small stadium next to the arena where the  press conference was to be held and were soon greeted by Kumamon, who seemed to me out of place in a boxing press conference.  Boxing press conferences tend to be case studies in hypermasculinity, where threats and posturing are the norm.  Even the drama free press conference featuring low key fighters with mutual respect seem to have an aura of tension in the air.  I always pictured it to be comparable to the banter across the front lines during the First World War.  Sometimes there was real venom in the words.  Sometimes there wasn't.  Sometimes they joked and sometimes they threatened.  But at the end of the day there was that unmistakable tension in the air.  The acceptance that in the end their job was to neutralize each other.  The acceptance that all the suffering and sacrifice would only bring one man victory.  Even the personable former junior welterweight champion Victor Ortiz, who made the light-hearted press conference his forte, couldn't quite shake the tension.
But I'll be honest: for a few minutes…that bear pulled it off.
I had already discovered that Japanese boxing is just as prone to factionalism and politics as American boxing (to be honest, maybe more so).  And I knew that there was no love loss between the two fighters, even if they were soft spoken and respectful.  But at that moment I couldn't help but wonder if both Fukuhara and Yamanaka had stopped being soldiers trading barbs across the trenches before the final assault.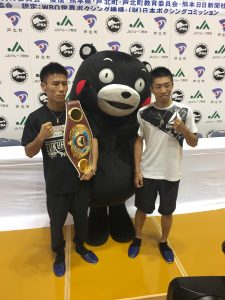 It was now time to make our way back to the hotel and I had the afternoon off after sending in my report on the press conference.  I decided to explore the town of Yatsushiro a little more and I would discover what would quickly emerge as my favorite spot in Japan: Papa Yoko's.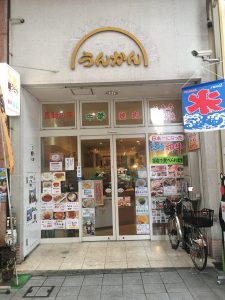 Don't bother looking for it on Google.  That was the name the American boxing crew affectionately gave to the small restaurant called Ran Kan.  Ran Kan was a small family owned restaurant operated by one "Papa Yoko" who was about as welcoming as any restaurant owner I ever encountered.  And he looked the part.
He was a smiling bear with a welcoming face and a friendly laugh whose house specialty was a variation of one of my favorite treats: shave ice.  But as is often the case in Japan, they took something that was already amazing and cranked it up to eleven.   Papa Yoko bought a high priced ice maker and used sweet milk as opposed to water.  The end result was a sweet, fluffy snow like ice which  he then covered with fresh fruit.  The American in me could envision the marketing campaign in my head, hundreds of Papa Yoko's popping up all over the country selling a superior snow cone and totally Starbucking the competition.  Papa Yoko even looked like a marketing dream: one part Chef Boyardee and one part Colonel Sanders sprinkled with a touch of the "Where's the Beef" lady.  Of course I'm sure the marketing team would conclude that the inside of the restaurant wasn't as inviting as Papa Yoko himself as it looked more like a cluttered living room rather than a restaurant…but in a moment that would run contrary to every episode I ever saw of Bar Rescue, it actually added to the appeal of the place.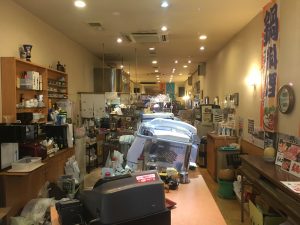 We went ahead and ordered one of the shave ice specials and ended up so impressed that before long we ordered two more.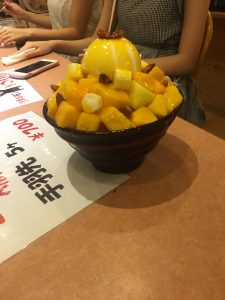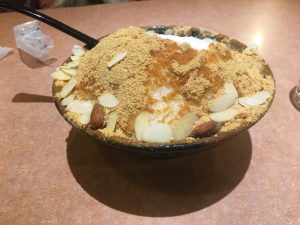 The place was such a hit with us that Papa Yoko even took our picture and put it up on his "Wall of Fame" next to a guy dressed as some sort of clown or something.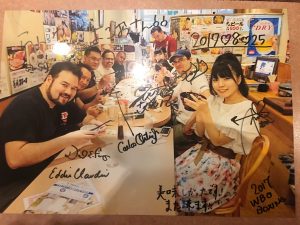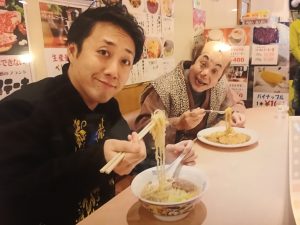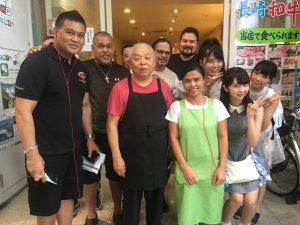 The following day was the day of the weigh-in, and again we took the shuttle to the Shiroyama Sky Dome in Ashikita-gun where this time I was able to take a selfie with what I assumed were the Japanese version of Civil War reenactors.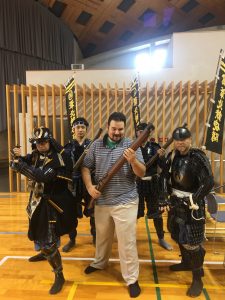 One of my favorite traditions with Japanese boxing was the dinner after the weigh-in.  In the United States you are sometimes handed a voucher for a free buffet at the casino.  When I covered the Manny Pacquiao-Joshua Clottey fight in Arlington Texas in 2010 the promoter (Bob Arum) had an awesome self service buffet in the press room with Texas brisket.  But in Japan it's something entirely different.  In Japan you are treated to a feast unlike anything you could imagine.  Fresh seafood (that at times is still moving) and a thankful promoter who makes the rounds pouring drinks for those in attendance.   We were heading to have dinner but first we were going to tour the town of Ashikita first.  We made a quick stop at the Jissho-ji Temple, a quiet and tranquil stop that we all enjoyed.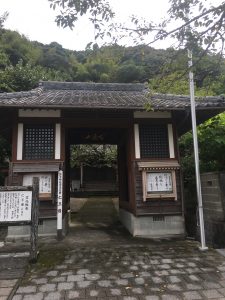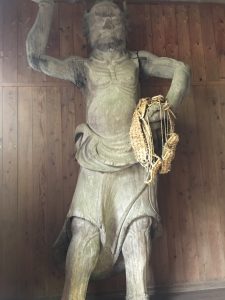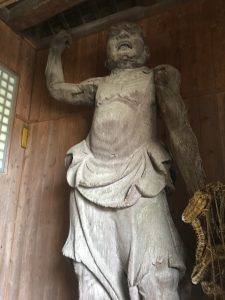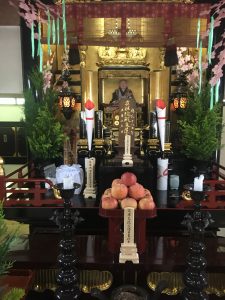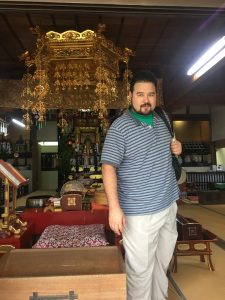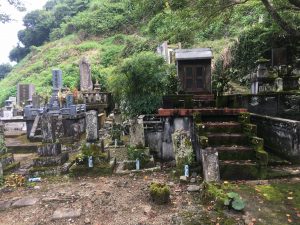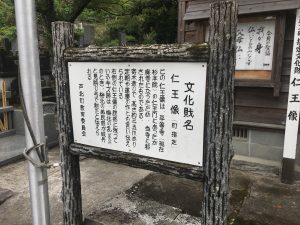 We then made a quick stop at the Sashiki Suwa Shrine, arguably the most famous site in the town.  More than just a religious site, it also seconds as a place where young sumo wrestlers hone their skills in front of the shrine.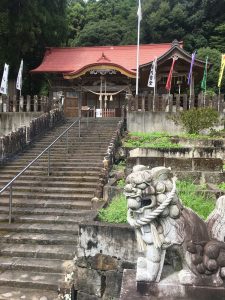 But now it was time for dinner.  It was time for the time honored tradition of having the best meal of your life the day before the Japanese boxing show.  We made it to the local restaurant where we were served some of the freshest sushi and best shrimp I ever had.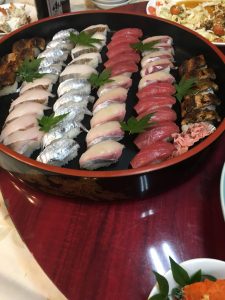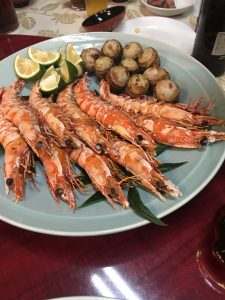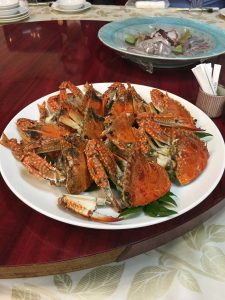 The following day was fight night, which I reported on here.  With the fight now behind us we would relocate to Kumamoto where I would have a day to explore the city of champions.  I spent my last day in Yatsushiro jogging through the town and stumbled across a few hidden gems including another temple and a face on the side of a building that brought back memories of the front of the truck from the movie Maximum Overdrive.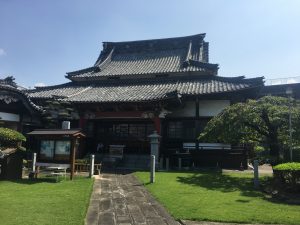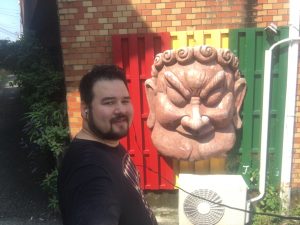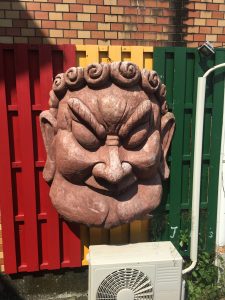 After jumping on the train to Kumamoto I quickly reached out to a friend I made on my previous visit to the city: Ayaka Ohzeki.  I wanted to see Kumamoto from a locals perspective and I wanted to try the one dish that eluded me in my previous visit: basashi.  She agreed to meet up that night and we made our way to a local hot spot famous for their raw horse meat.  I had already had one bad experience with raw meat while travelling but I was determined not to pass up this opportunity.  So I gave it a shot…
In the end I wasn't exactly blown away.  But hey, I can check raw horse meat off my list of weird foods I've tried while travelling.
Ayaka and I then toured the nightlife in Kumamoto and I won't lie: I was surprised at how diverse it was.  We stopped at Celts Irish Pub where I met Herve, a Haitian born bartender who had relocated to Kumamoto.  It was something I wasn't expecting to experience in Japan: here we were: and American of Korean descent hanging out with a Japanese of Korean descent at an Irish bar with a Haitian born bartender.  It didn't fit my image of the insular nation of Japan.  It felt like something you'd experience in LA.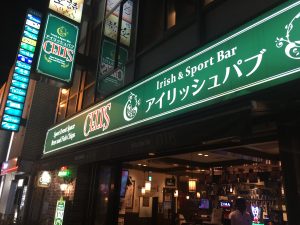 The next morning I decided to try and tour the city one more time.  It was my second visit and the city proved full of surprises.  But I had one more stop to make: Kumamoto Castle.  I was close to the castle, my hotel was maybe a mile away.   And I had several hours before I had to catch the bullet train to the airport.  But I wanted to see how the castle repairs were going since the earthquake.  And I wanted to experience the hustle and bustle of a weekday morning in Kumamoto.  I decided to go for a jog to a favorite stop Loren had showed me: a French bakery in Kumamoto (did I mention how diverse the town was) and soon made my way up to the castle.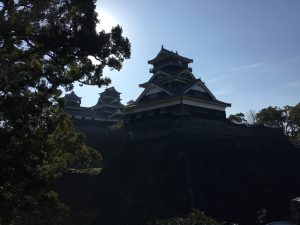 I could tell the Castle had come a long way since my last visit and I couldn't help but feel sad.  The fighter I had come to cover, Tatsuya Fukuhara, had lost his title and I realized there was a strong possibility that I would not be able to come out to Kumamoto again.  Boxing is a fluid sport.  There would be other fights and other cities but I somehow knew that this wasn't going to be one of them.
But as I wandered to the nearby monument to Tane Tateki I suddenly realized that I was counting out both Fukuhara and Kumamoto.  Tatsuya Fukuhara had bounced back from bigger setbacks than this…and Kumamoto had as well.  The city was bustling and moving, and perhaps more importantly, it held itself up with an aura that you only find in champions.  It didn't look back.  It didn't dwell.  It didn't ask you to feel sorry.  And it didn't just pick up the pieces and move on.  No.  That's not how champions roll.  Kumamoto was showing us that it was the kind of place that only got stronger with each setback.  The earthquake didn't slow it down.  Rather, it only showed the rest of the world what they already knew: this was an amazing city and no earthquake was about to change that.  The setback put a magnifying glass on the city of Kumamoto and the city showed itself to be up to the challenge.  It was a city whose resiliency was now forever weaved into the fabric of it's identity.  Kumamoto was a city that wasn't going to let you forget it anytime soon.
I had to smile as I made my way back to the hotel.  I realized as I saw the people of Kumamoto on their way to work that that the city of champions had gotten to me.  I would be back.
Because I was a boxing writer…and deep down I knew that there was still a few great fights left in this city.
Read more Finger Post Travel stories here!