The Finger Post Travel (May 13, 2018)
"I remember when we used to sit in the government yard in Trench Town." – 
Bob Marley.
I'm sure a lot of people have a favorite Bob Marley quote.  A song lyric that just grabs you and never lets go.  And I won't lie, as a teenager I went through my obligatory middle class college student Bob Marley phase.  But after awhile the songs just became, well, just songs.  I guess that's a sign of getting older.  You stop finding meaning in things like Redemption Song.
But that one lyric from No Woman No Cry always stuck with me.  I obviously never sat in a government yard with Georgie making the fire light, but there was something about that lyric that made me nostalgic.  I could feel that sense of longing for a time passed, a simple time with good friends.  A time that would never happen again.  It's a powerful song that can make you nostalgic for something you never experienced before.  Particularly when you are a teenager and you are living those carefree days that you would soon wax poetic over as a middle aged man.
Yeah, Georgie and the fire light..I couldn't quite shake.  It's been years since I first went through that Bob Marley college student phase, but even today I still stop and pause every time I hear that one lyric.  And the other day I realized that this is a feeling that isn't exactly unique to me.  Apparently there is a German word for nostalgia for something you never experienced: sehnsucht.  Realizing that brought me back to my recent trip to Trench Town and Kingston Jamaica back in October…where I would sit in a government yard and where I found out what happens when sehnsucht meets the real world.
The WBO Boxing convention was slated to kick off from the Miami aboard the Norwegian Sky cruise  ship.  I would have a chance to go back to Cuba in a week but I wanted to take advantage of my time in Florida to grab a cheap ticket to Jamaica.  I wanted a few days to check out Trench Town and Kingston.  I arrived in Miami a few days early and caught a direct flight to Kingston, Jamaica that brought me into Norman Manley International Airport at 6:54 PM.  I had decided not to make my way to Kingston that night.  I had heard that Kingston was no stranger to crime and I didn't want to wander around the city at night looking for a hotel.  Instead I booked a room at the Grand Port Royal Hotel Marina & Spa in Port Royal, a small costal village at the end of the Palisadoes tombolo, a sandspit that jutted out of the Kingston Harbor.
Right away I realized that although Kingston wasn't exactly Montego Bay…it also wasn't exactly cheap.  My two nights at the Grand Port Royal Hotel Marina & Spa were going to run me close to $90 a night for a decent (but not exceptional) hotel room.  I decided to try and cut down on some unnecessary expenses on this trip and one of those expenses would be the $20 cab ride to the airport.  Reading online I learned that there was a public bus to Port Royal that stopped at the airport and that seemed like an interesting way to experience true Jamaica.  The Jamaica Urban Transit Company (JUTC) had a bus that was suppose to arrive every 35 minutes.  And by the time I left the airport and arrived at the bus stop outside I would only have to wait 10 minutes for the #98 bus to arrive.
At least that was what the schedule said.  Of course the schedule was wrong.
An hour later I was on the #98 bus on my way to Port Royal.  I was tired and I was very much regretting my decision not to take a cab.  But once the bus dropped me off in front of the hotel my mood lightened.  Port Royal was a small town, a far cry from it's heyday as the largest city in the Caribbean.   I could tell this would make for a good base of operation to explore the village.  But I could also tell that unless I was willing to spend a lot of money on taxis, or wait around at bus stops all night, this would not be an ideal base of operations for exploring Kingston itself.  After checking into my room, which was decent but hardly exceptional considering the price, I elected to make my way to the marina behind the hotel where I planned to grab a late dinner at the Blue Marlin Restaurant.  I wasn't sure what to expect, it seemed a cozy place and I assumed it wouldn't be that expensive.
Then I saw the menu.
$38 for the shrimp and lobster pasta was almost enough to convince me to skip dinner.  But I noticed a $12 fried fish sandwich and decided to go that route.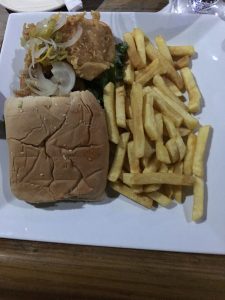 The following morning I elected to make my way into town.  I didn't need a bus or even a cab to  explore Port Royal. It was just a five minute walk to St. Peter's Anglican Church, situated in what I assume was downtown.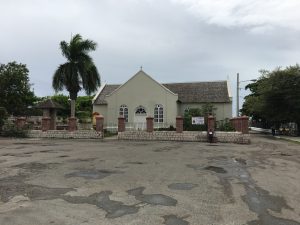 Like much of Port Royal, it's identity was very much tied to the earthquake that destroyed the city on June 7, 1692. The current church was built in 1726 after the "original parish church sunk below the waves in 1692."  Although the Church was closed it was only a five minute walk to Fort Charles, the only fort to survive the  earthquake of 1692. I was told that this was a major tourist attractions in Port Royal, and after walking through the town I could help but wonder if it was in fact the only tourist attraction in Port Royal.  As I approached the entrance I could tell can that I was going to be somewhat underwhelmed. To be honest, it didn't really look like a "must see" site. Peeking through the embrasure (don't worry, I had to google it also) I could tell this would be a somewhat Spartan exhibit and the $15 entrance fee seemed a bit steep to me. So I elected to do something I am loath to do when travelling: I skipped it. Usually when traveling I always make time to visit the local sites, and I've paid $15 or more for many forgettable museums (such as the Lincoln Train Museum in Gettysburg, Pennsylvania).  But something about this one just didn't click for me and I elected to pass on it.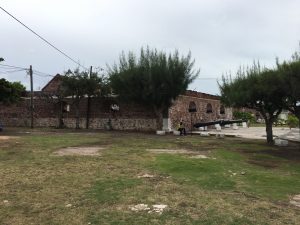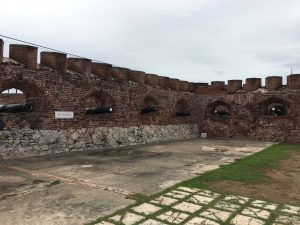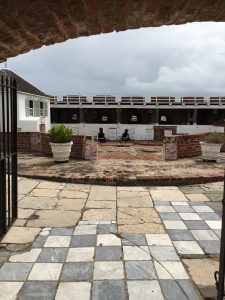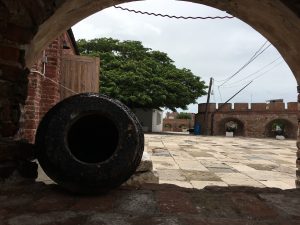 Besides, a wild hog had just passed me and I was curious to see where he was going.  I would discover Port Royal had it's fair share of rather chill feral hogs that just sort of wandered the city, and following this one led me to what I assume was a residential section of Port Royal.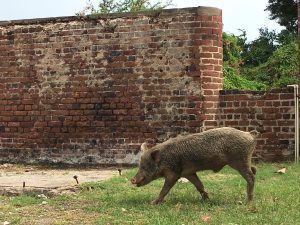 It was an interesting discovery but one that I didn't need to spend much time at.  I decided to make my way back into town to visit the only other site that really caught my eye: the abandoned Royal Navy Hospital.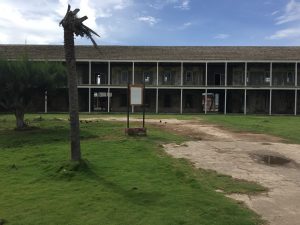 Built in 1818 the hospital looked like something out of a post apocalyptic movie.  The building were collapsing and decaying, but it was nonetheless a fascinating stop and to be honest…it was the highlight of my time in Port Royal.  I snapped a few pictures and couldn't help but be a little blown away that an American tourist could just freely wander what was clearly a safety hazard like this place obviously was.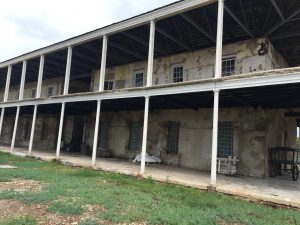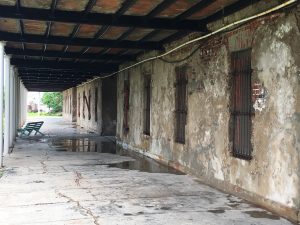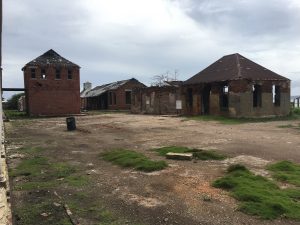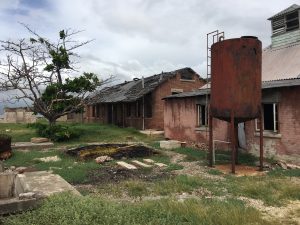 As I headed back I stopped at a local grocery store where I grabbed a soft drink and chatted with the locals, including a four year old boy who was fascinated by my iPhone and the selfies he could take with them.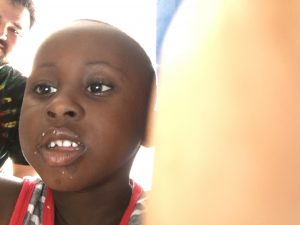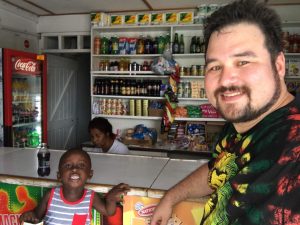 They recommended a place called Gloria's for dinner, something that was seconded by my hotel.  It was, they promised, the best seafood in all of Jamaica.
With a recommendation like that I knew I would have to try it.  I already made plans to leave Port Royal and spend my final two days in Jamaica in Kingston itself tomorrow morning and I figured dinner at Gloria's Seafood would be the ideal way to say goodbye to the village of Port Royal.
Arriving at Gloria's Seafood I quickly realized I had not been lead astray.  The place was packed, and it had it's fair share of tourist…something I had not seen in town all day.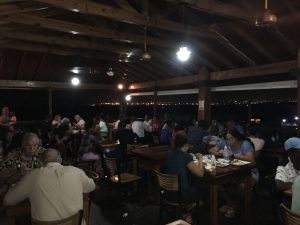 I ordered the Buccaneer's Mix for about $18 USD, fried fish and lobster with a side of fries and "bammy".  The bammy was…different, but the rest of the meal was incredible and I was sold.  This was the perfect at to cap off my day in Port Royal.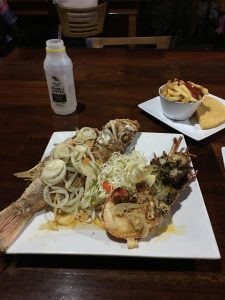 The following morning I decided to contact Bryan Pert, who rented out a room on Airbnb.  It would prove to be the best decision I made during my trip to Jamaica and Bryan was a gracious host and an incredible guide.  More than just renting out a room he took great pains to ensure I got to see the sites I wanted to see and get to the places I wanted to visit…something that I realized would have been extremely difficult if I was trying to organize it myself.  Bryan met me at the bus stop and we immediately hit it off as he took me for a short tour around the bus station where I got to visit the Saint William Grant Park, The Ward Theatre, and the Kingston Parish Church.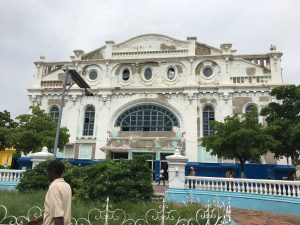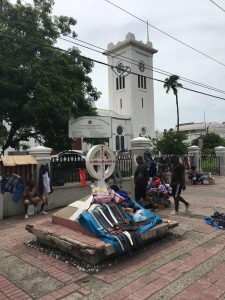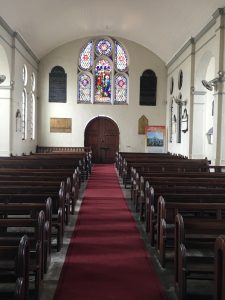 Just down the street from the park was the Simon Bolivar Cultural Centre.  The Simon Bolivar Cultural Centre is a 350-multi cultural center with an exhibit hall that was financed in part by the Venezuelan government at a cost of $4.1 million USD (because Venezuela certainly had extra money that they didn't need to spend domestically).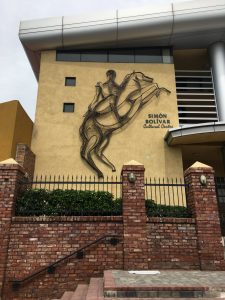 It was a fun way to be introduced to Kingston, and although I didn't have enough time to really take in a lot, I did get a chance to admire the statue of Jamaica's first prime minister, The Right Excellent Sir William Alexander Bustamante, which was located in the Saint William Grant Park.  To be honest, I couldn't help but wonder if they took some liberties with the Right Excellent Sir Bustamante's abs.  But I decided to drop it.  Nah, I didn't want to be hatin' on Bustamante's gains.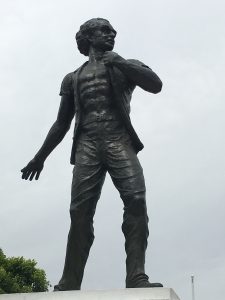 From there we caught a route taxi and made our way back to his house.  I dropped off my bags and got ready for my next stop: the Bob Marley Museum.  The museum cost $2500 Jamaican dollars to get in (just under $20 USD) but unlike Fort Charles I knew there was no way I was going to miss this.  No, Georgie would never let me live it down if I skipped the Bob Marley Museum.
I caught a cab and familiarized myself with the route and shortly after arriving I was part of a group tour.  I liked our guide, who was friendly and enthusiastic and who seemed genuinely impressed that I named "Kaya" as my favorite Bob Marley song.  The photos and artwork outside were impressive, and they included the obligatory portrait of Emperor Halie Selassie.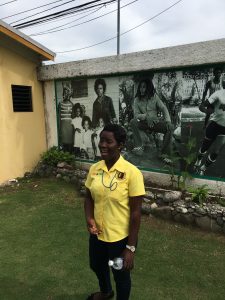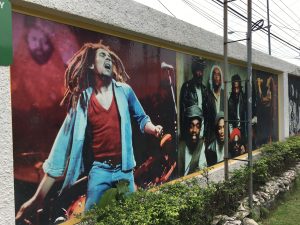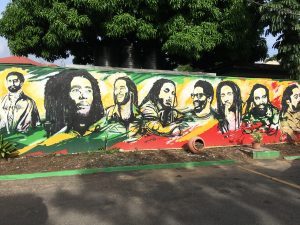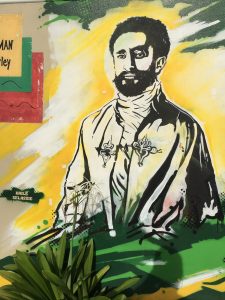 Having left Ethiopia just five months prior I found the central role of Selassie in Rastafarianism to be fascinating…if not a little difficult to understand.  Having visited Selassie's former palace in Addis Ababa I couldn't help but see Selassie as all too human.  Probably overall a good man, but a man with some very notable flaws (for one, his bathroom was really tacky).  And I couldn't help but wonder what impact the overthrow and eventual murder of Selassie by the Derg had on Bob Marley and the Jamaican Rastafarian community as a whole.  According to Wikipedia it was a moment that "dampened" it's growth and popularity.  I couldn't help but wonder how the Rastafarians would have grappled with the realization that incarnation of Jah on earth had just been overthrown by a communist military junta that would launch a genocide that would ultimately rival the Holocaust in its brutality.
We made out way inside and although photos were prohibited I did notice the museum was a perfect balance of memorabilia of historical recreation.  This was, after all, Bob Marley's former home.  We were able to see numerous records and photos from his concerts in places like New Zealand (taken by a fan) alongside his bedroom and the small kitchen he would prepare his blended fruit shakes with.  But I would be taken aback by a large poster of Bob Marley's concert in Zimbabwe in 1980 located in a room on the second floor.  I won't lie, it threw me for a loop.  Marley would die the following year, before he saw what Zimbabwe would become.  Now I am sure many of you are assuming I am about to bring up the disastrous "land reforms" of former Zimbabwean dictator Robert Mugabe that may have cost Zimbabwe over $17 billion and would lead to food shortages and hyper inflation in the country.  No, what I couldn't help but wonder is if Marley would have felt personally betrayed by Robert Mugabe.  I wondered what he would have thought about Mugabe and Zimbabwe giving refuge to the former dictator of Ethiopia: Mengistu Halie Mariam.  In 1994, three year after he fled the country, Ethiopia tried him in absentia for the murder of thousands of Ethiopians under his genocidal rule…including the murder of the former emperor who was allegedly suffocated with his pillow by Mengistu's men (some reports even allege Mengistu did the deed himself).  What would Bob Marley have thought about the man he so warmly embraced back in 1980 giving refuge to a mass murderer and the man responsible for the death of the holiest man in his faith.  I like Justin Trudeau. He seems like a likable guy.  But I if he turned out to be an Immortal from the movie Highlander and 2000 years ago he was Pontius Pilate, well, yeah, I wouldn't be cool with him anymore.
The poster of Mugabe sort of depressed me and we followed it up by visiting the room where Bob Marley was nearly assassinated in 1976.  Days before what Marley was hoping would be a non-political concert dubbed "Smile Jamaica" unknown gunmen drove up to Marley's house and open fired in a back room, hitting Marley in the arm and chest.  Marley recovered and even performed two nights later.  However the gunmen were never apprehended and the shooting highlighted the political tension that plagued Jamaica in the 1970s.  The tour was taking a bit of a dark turn for me but then I saw it: Georgie's portrait on a back wall and my mood lightened ever so slightly.  I suddenly had a face to the lyric.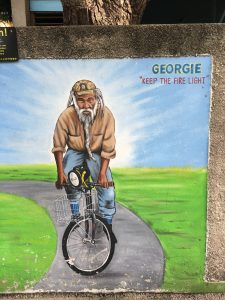 I was ready to head back but before I left I grabbed a set behind Bob's house, just a few feet from where gunmen nearly killed him.  Legend has it that this was the spot that he penned the classic tune "Three Little Birds."  I decided to take a short break before I headed back and sit down in the same spot where Bob Marley would be so inspired as to write one of his most beloved songs.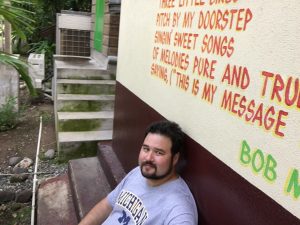 It was now time to make my way my way back to the Airbnb, but before I left I decided to take a few more pictures of the museum before I left.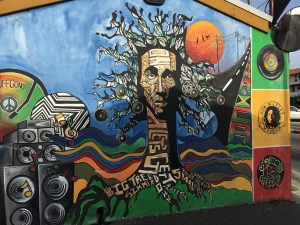 On my way home I decided to stop at the grocery store that near the Airbnb.  I wanted to do some grocery shopping, and in particular to get some Jerk chicken marinade to take home with me.  Shopping in a Jamaican grocery store was a surprisingly  fun way to close the day, and after grabbing some Blue Mountain Coffee and Jerk seasoning I was ready to make my way back to my room.
A short walk followed and by the end of the day I decided to tap into the tremendous resource I had in Bryan and see if he could direct me to a good restaurant for some authentic jerk chicken.  He recommended Island Grill, a popular national chain restaurant.  We caught a cab and by the time I arrived the place was packed.  This should have been a really good sign of what was to come…it should have been. But I can't really recommend Island Grill for any of you planning a trip to Jamaica.  The food was ok, but hardly the best jerk chicken you'll ever have.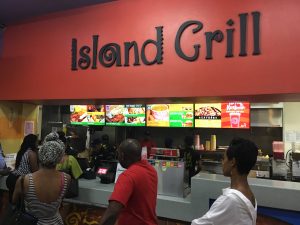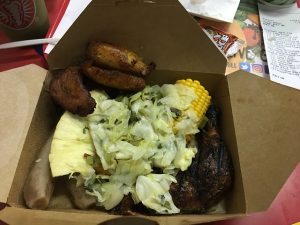 By now the sun was down and I was beat.  I had a big day tomorrow…it was time to chill with Georgie.  It was time to hit Trench Town.
Read more Finger Post Travel Stories here!