The Finger Post Boxing: July 28, 2018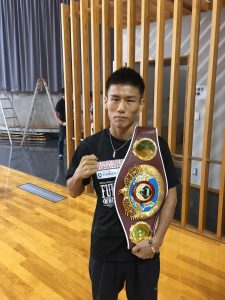 Kumamoto Japan's favorite son, former WBO mini-flyweight champion and current WBC #9 ranked minimumweight Tatsuya Fukuhara (20-6-6, 7 KOs), returns to action this Sunday (July 29th) as he takes on countryman Naoya Haruguchi (15-8, 6 KOs) in an eight round fight in his hometown of Kumamoto, Japan.   Although ranked in the top ten by the WBC, the former WBO champion is not rated in any other sanctioning organization, something that a dominant win over Haruguchi could rectify.  However, few are counting out the cagy 29-year old from Kagoshima.  Haruguchi has won seven of his last eight fights, with his only loss coming by way of majority decision to former world title challenger Riku Kano back in November of 2017.  Fukuhara, who is keen on positioning himself back into the WBO rankings for a potential clash with newly crowned champion Vic Saludar, also recognizes that a loss could effectively end his run as a contender and would almost certainly close the book on a potential clash with the young Filipino champion.
In the co-main event Dr. Tomoya Ikeda (5-2-1, 4 KOs) will take on one of his toughest opponents to date as he steps in with the undefeated 21-year old Kazuki Nakazono (3-0-2, 3 KOs).  The 21-year old prospect is seen as the favorite over the medical doctor, who at 36-years old is admittedly running out of time for a serious run in boxing.  But Dr. Ikeda's compelling personal story, which included volunteer work with an NGO in Afghanistan, has made him one of the most popular fighters in Southern Japan.  Even in Japan it is rare to find a prizefighter who co-authored a highly cited medical report such as Dr. Ikeda's December 2016 report on "Age estimation by ossification of thyroid cartilage of Japanese males using Bayesian analysis of postmortem CT images."
Rounding off the card is popular super bantamweight Yuki Hirashima (8-2-1, 2 KOs) squaring off against South Korean veteran Jong-Won Jung (5-6-1, 3 KOs).  Jung will be stepping in the ring for the first time since April of 2013.
The fight card will take place at the City Sogo Gym in Kumamoto, Japan.  Doors open at 11:30 with the fight fight kicking off at noon.  Tickets start at 5,000 yen.
Weights from Kumamoto:
Tatsuya Fukuhara 104.5
Naoya Haruguchi 104.7
Tomoya Ikeda 133.8
Kazuki Nakazono 133
Yuki Hirashima 121.9
Jong-Won Jung 121.3
Read more Finger Post Boxing stories here!