The Finger Post Travel (January 16, 2018)
"No, come to Cebu!"
It was a forceful invitation from my good friend Salven Lagumbay, a noted boxing judge with the World Boxing Organization who was in Japan for a WBO championship fight  that I was in town for on August 27, 2017.
I had told Salven that I was coming to the Philippines the following month but I hadn't yet figured out what my itinerary would look like.  My flight landed in Manila at 9:35 PM on September 21st and I would be flying back on the morning of September 25th.  I didn't have much time, and I assumed I would spend my three days in the Philippines hanging around Manila.  I considered a trek up to Buscalan to try and get a tattoo from the 97-year old mambabatok, or traditional tattoo artist, Apo Whang Od.  But even that trip looked ambitious for the short period of time I had.  The trip to Buscalan involved a very close connection from the airport to the bus station and everything I read about Manila traffic indicated that was a dangerous game. There were a few boxing shows in Manila, so I assumed I would just check "see a boxing event in the Philippines" off my bucket list and finally try some food from Jollibee, another thing I'd be able to check off my bucket list.
But while covering a boxing show in Kumamoto Japan I happened to mention my plans to Salven and the rest, as they say, was history.
"Come to Cebu," he insisted, "I want to show you my town!"
I hadn't really considered Cebu previously, but I already knew Salven would be an amazing host and I also knew there would be no shortage of things to do in Cebu for three days, so I readily agreed.
My flight from Albuquerque to Manila via Tokyo Narita was enjoyable, my first on JAL.  The food and service was extraordinary and although I tend to avoid hating on United Airlines I nonetheless had to conclude that Japan Airlines did put United and American Airlines to shame.  The fact that they had complimentary toothbrushes and small tubes of toothpaste in the restrooms was enough to sell me on JAL, and that was before I even had the dinner (which was exceptional).
Arriving in Manila at 9:35 PM I didn't want to stray too far from the airport.  Again, I had been warned about the traffic and I already discovered that Manila's reputation as one of the world's worst airports wasn't entirely unwarranted.  I elected to go with the Fil Star Airport Guesthouse, located just a few blocks from the airport in an apartment complex.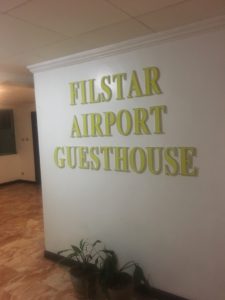 The room was spartan, but at $26 a night I wasn't expecting anything exceedingly fancy.  But I appreciated the free airport pickup and drop off and the free home cooked breakfast that was included in the price of my room.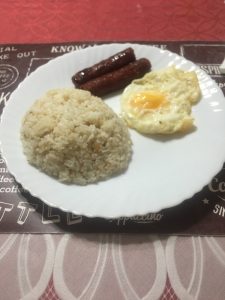 Over all the Fil Star was a great little place for what I was looking for.
The following morning I made my way back to the airport, this time the domestic terminal, for my Philippine Airlines flight to Cebu.  I grabbed a small snack at the airport of Mango Cake, which was a little dry and overall not particularly enjoyable.
Arriving in Cebu I was met at the airport by Salven and he quickly took me to lunch at Rico's Lechon, where I would get my first opportunity to try a famed Cebu delicacy: lechon, or roasted pork.
I had no idea what I was in for, but I knew the second I walked in that I would be in for a treat.  I've had roasted pork…but this was an amazing experience.  The Filipinos are noted as the country with the best lechon in the world, and Cebu is noted as the city with the best lechon in the Philippines.  Rico's, as I was told, was one of the two best lechon restaurants in Cebu.
It lived up to it's reputation, I was completely blown away by how good my meal was.  But Salven promised me this was just the start of what would be an amazing three days of Filipino food.
After getting our lechon and our side of pusit na pinaputok (grilled squid) we were off to our first stop of my short trip to Cebu: the shrine of Lapu-Lapu on Mactan Island.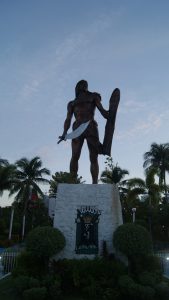 Widely regarded as a national hero, Lapu-Lapu resisted Spanish intervention when, on April 27, 1521, he and his soldiers defeated Ferdinand Magellan in the Battle of Matcan.  Magellen was killed in the battle and the Spanish were held at bay for another 40 years.
Unfortunately it was at this time that I realized that something was wrong with my iPhone camera as most of my pictures were somewhat blurry.  Nonetheless the statue of Lapu-Lapu was a enjoyable way to kick off my visit to Cebu.  
From there we made our way to my hotel: the Cebu Grand Hotel.  Salven suggested we go whale shark watching, one of the biggest tourist attractions in Cebu.  I would later discover after reading the Honeymoons Backpackers blog that one should reconsider diving with the whale sharks in Cebu and should instead consider diving with whale sharks in Donsol instead, but at the time it seemed like the perfect way to spend the day in Cebu.  But I soon discovered that it would be several hours away and when all was said and done, I had only one full day in Cebu.  I always wanted to go swimming with whale sharks, or even to just see one.  But like my visit with Apo-Whang Od, this seemed a little too ambitious for the time I had in Cebu.  Instead we decided on a plan to see some of the sites in Cebu, starting with a Philippine legend: Jolibee.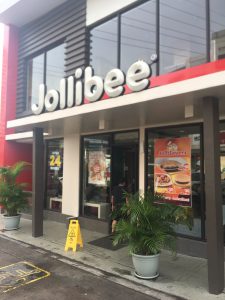 I never ate at Jolibee before, but I was told that this was the most famous fast food restaurant in the country.  Even more significant to me was the David vs. Goliath story that was Jolibee's battle against the multinational giant McDonald's.  Across the world local restaurants found themselves unable to compete with the American behemoth…except in the Philippines, where the once tiny chain held out against McDonald's and continues to dominate the Philippine market.   Like Lapu-Lapu before them, Jolibee was able to fight back against all odds and reject foreign domination of the Philippines…or at least their fast food market.
I ordered the standard breakfast, fried chicken, a friend egg, and rice….and I was blown away.
It was terrible.
Seriously.  I know the Egg McMuffin ain't exactly fine dining, but how could a dry chicken leg be the great wall of cuisine that was kicking the Americans rear end with every breakfast served in the Philippines?  I almost envisioned a corporate board meeting where a group of American food experts all sat around a table tasting the Jolibee fried chicken leg and being totally perplexed as to why they couldn't seem to create a dish that would convince Filipinos to reject the local brand and get a Big Mac instead.
After my rather unspectacular breakfast at Jolibee we made our way to our next stop: Magellan's Cross.  Magellan's Cross is allegedly the same cross that Magellan ordered planted by Spaniard and Portuguese explorers on March 15, 1521.  Although there is a belief that it might be a replica planted by the Spanish after they subdued the Philippines and the country embraced Christianity, there is no question that it has been there a long time and that it remains one of Cebu's most notable tourist attractions.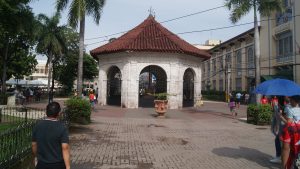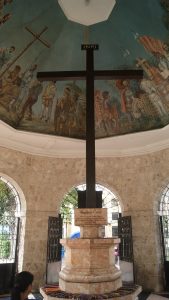 Near Magellan's Cross was the Basilica Minore del Santo Niño, another famous stop in Cebu, where I spent several minutes touring the basilica.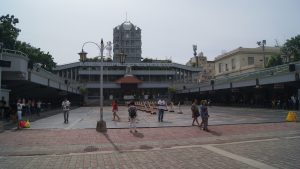 We then made our way to Island Souvenirs located just around the corner from the Basilica and then headed back to the car where we made our way to the idyllic Cebu Taoist Temple located in the Beverly Hills Subdivision of Cebu.  It was a unexpected stop but one I was grateful that we made.  The temple was beautiful and a nice change of pace from the bustle of downtown Cebu.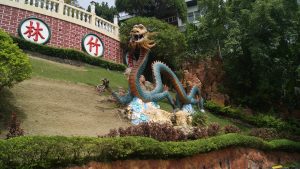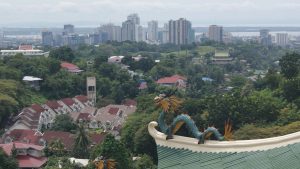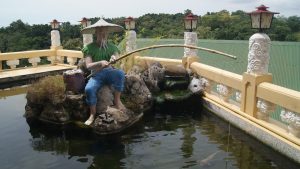 After we left the Taoist Temple we made our way to another unexpected stop: The Temple of Leah.  The Temple of Leah is hard to summarize.  It is described as a monument built by noted Cebu businessman Teodorico Adarna, father of actress Ellen Adarna and owner of Queensland motels.  He built the temple in honor of his wife.  Perhaps it is best summed up on the message from Mr. Adarna on the Temple of Leah Facebook page:
"I constructed this temple in the year 2012 A.D. as a symbol of my undying love for and ceaseless devotion to Leah Villa Albino-Adarna, my wife of 53 years. I adopted and architectural and structural design that can withstand time and still be appreciated for a millennium so this Temple will become a landmark of Cebu where future generations of the Adarna clan coming from her can come and trace the roots and heritage. All her lifetime collections are showcased in the 24 chambers of this Temple principally for the members of our family who cherish her memory.
May this Temple serve as a symbol of a great love of a husband to his very loving wife."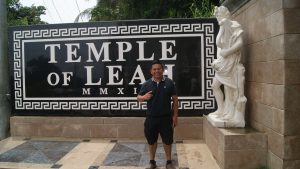 The views from the Temple of Leah were stunning, and I could see why this relatively recent structure has quickly emerged as one of Cebu's most popular destinations.  The funny thing is since visiting the Temple of Leah I've noticed that a lot of photos of people from Cebu on Facebook are in front of the Temple of Leah.  I can't help but wonder if fifty years from now the Temple of Leah could be one of the most iconic and photographed places in the Philippines.  If 50 years from now it just becomes one of those instantly recognizable places to everyone…and one everyone in the world associates with Cebu.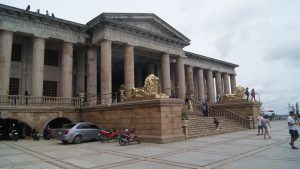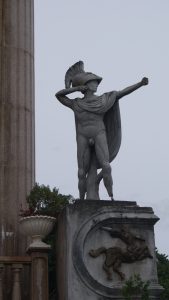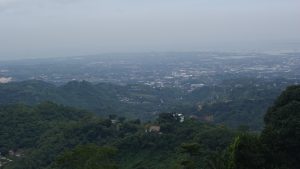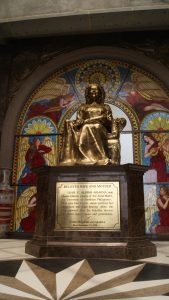 From here we made our way to our next stop: the farm of former defense attorney Noel D. Archival.  Archival, a noted defense attorney in Cebu, was murdered in 2014 and his killers remain at large.  His son runs the family farm where fighting chickens are bred and sell for a hefty price.  I had never seen a chicken fight or even fighting chickens for that matter as cock fighting is illegal in New Mexico.    But in Cebu is was a national pastime and the Archival farm was arguably where the most successful fighting cocks came from.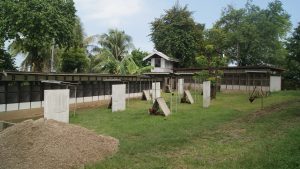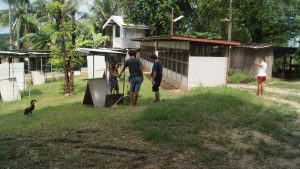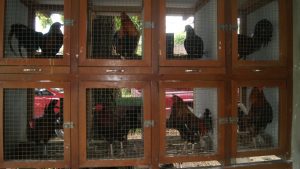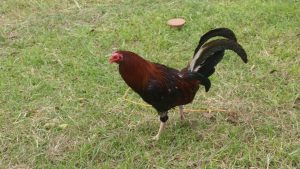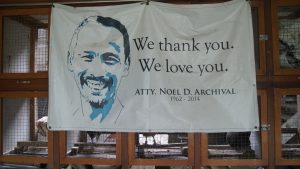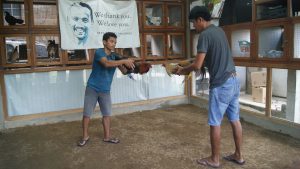 We closed out our time at the Archival Farm by planting a tree named after me (someday I will have to take my kids there to check out the David Finger Memorial Cocoa Tree) and we closed out the night with dinner at a Japanese Restaurant.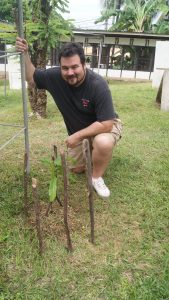 On September 23 I checked out of my hotel and then we made our way to our final stop in Cebu: the Ala Boxing Gym.  I was excited about the visit.  In boxing there are a handful of legendary gyms…gyms that have emerged as cultural icons.  Gyms that are globally recognized brands   Kronk was arguably the most famous in the United States but in the Philippines it was the legendary Ala Boxing Gym in Cebu that emerged as the national icon, no small feat considering Manny Pacquiao has his own gym in Manila.  I was about to visit one of the most famous boxing gyms in the world and see coach Edito "Ala" Villamor in action.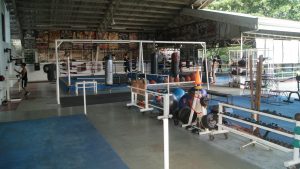 It's not a typical tourist stop, but I was glad to have visited it.  I never saw a boxing gym with a monkey hanging around before, and although he wasn't particularly photogenic, I decided not to push the issue as I was warned that he had a bad habit of grabbing camera and throwing them in the alligator pit (oh yeah, the is an alligator at the Ala Gym as well).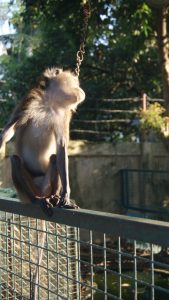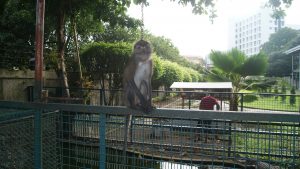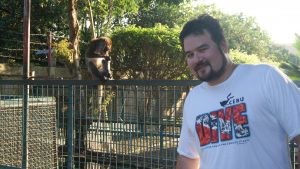 It was a light day at the gym, no heavy sparring although I did get to see some of the brightest stars in Philippine boxing working out, including mini-flyweight contender Melvin Jerusalem.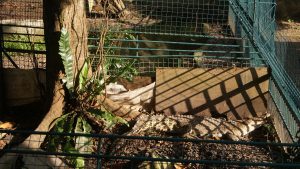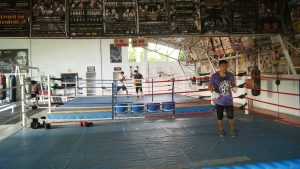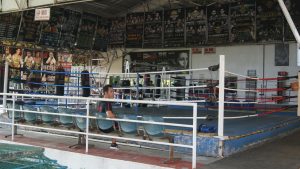 We left the Ala Boxing Gym but there was one most stop before my flight to Manila: the House of Lechon.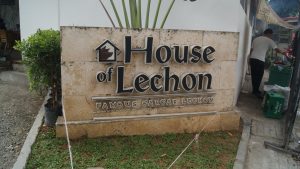 I had tried one of the best lechon restaurants in Cebu…now Salven was going to take me to the best.  I was not disappointed.  House of Lechon lived up to the lofty praise Salven bestowed upon it and I was blown away by how good it was.  If you are in Cebu and only have time to get lechon at one place, I would have to say House of Lechon should be on your list…dare I say I think House of Lechon should be on everyone's bucket list.  It is an absolutly amazing experience and one of the best meals I had…ever.  Quite frankly everyone should try and have lechon, real Cebu lechon, once in their lives and House of Lechon should be the place you have it.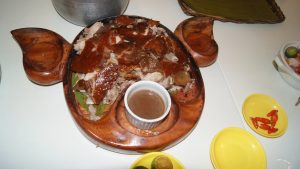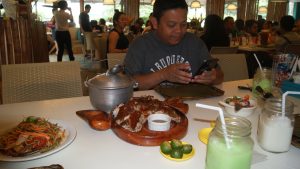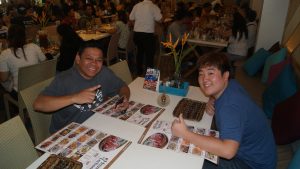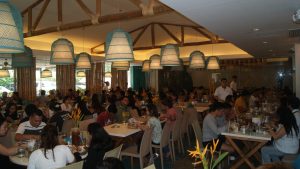 Salven also allowed me the opportunity to have a selfie with another Philippine icon: the jeepney.  The jeepey is one of the most recognizable forms of public transportation: small, crowded, and oh so colorful.   But as I would discover, there is some push back against the jeepney and there may come the day when the jeepney is no longer a common sight on the road in the Philippines.  I wanted to get a picture with one..just in case.  Right now the jeepney still rules the roads in Cebu…but I wasn't taking any chances  There was once a time getting a selfie inside a Blockbuster would have been a piece of cake.  But I never got around to it and now I have to fly to Alaska to get one.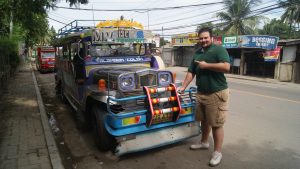 I found the most jeepny looking jeepny and quickly had a photo taken with it before we were on the way to the airport.  In the end, Cebu deserves more than three days…but Salven made sure my three days were well spent and highly productive.  There is no question that I'll be back in Cebu sometime soon.  I have a whale shark to swim with…and another plate of lechon calling my name.
Read more Finger Post travel stories here!