The Finger Post Boxing (November 30, 2018)
I've covered fights all across the globe and have sat ringside for some of the biggest fights in boxing history…but I think every boxing writer laments the one that got away.  And for me that was the night of May 26, 2001.
I was just kicking off my career as a freelance boxing writer in Michigan.  I had submitted some material to a few smaller boxing websites and was 11 days away from covering my first fight card for Fightnews.com: a club show in a VFW hall in Durand, Michigan. (for the record, Fightnews didn't end up posting it, my first published fight report was from a show in Washington D.C.).
But even if I wasn't a boxing writer at that point I was still a fight fan, which makes May 26, 2001 inexcusable.
That was the day that "Pretty Boy" Floyd Mayweather Jr. defended his WBC Super Featherweight title in Grand Rapids, Michigan against Carlos Hernandez of Argentina.  I don't know why I didn't make the drive out from Flint to Grand Rapids to see that fight.  Floyd was already established as one of boxing's best champions and although he would dominate Hernandez it would prove to be a historic night: the only knockdown of Mayweather's career (for the record it wasn't much of a knockdown).
I would go on to see Mayweather in action in the future…April 8, 2006, when he won a decision over Zab Judah in Las Vegas.  But by then Mayweather was a superstar.  In Grand Rapids he wasn't the most recognizable fighter on the planet yet.  Hell, he wasn't even the most recognizable fighter in Michigan yet.  He was talented…we all saw it.  But somehow that talent wasn't enough to motivate me to drive one and a half hours to see him in action live.
I guess I just didn't appreciate how close to greatness I was back on May 26, 2001.  And I guess that is why I often pay special attention to those four round fights on the undercard.  You never know if that 3-0 kid on the undercard might just be something special.  Admittedly they are usually in against a softer touch…but how many of you would say you wouldn't drive up to Albuquerque to have seen a young Floyd Mayweather Jr. in action, even if it was against a journeyman?  Sure the fight featuring that young prospect ends up being pretty lopsided, but you still get to see a young prospect in action…and sometimes that young prospect turns out to be something really, really special.  You see the flashes of brilliance…and sometimes you even get to see the rough edges that you know will be polished out before he fights for his first world title.
Yeah, I may have May 26, 2001 as my missed opportunity to see greatness rising…but I am not alone.  Just about every fight fan in New Mexico has a date they also have to carry with them: November 30, 1996.  22-years ago to the day.
Because on that day Floyd Mayweather came to Albuquerque.
In an ESPN televised fight card featuring then WBO Super Flyweight champion Johnny Tapia in a title defense, Floyd Mayweather Jr. stopped by for a four round clash with a little know journeyman from Indiana named Reggie Sanders.  And if you are a fight fans from New Mexico who for whatever reason didn't go to the Tingley Coliseum on November 30, 1996 then watching the fight now on YouTube will be painful.  You will see hundreds of empty seats all around the ring.  Sure we didn't know that Floyd would become "Money" but it doesn't change the fact that you missed this golden opportunity.  You missed a chance to see an all time great in his only fight in New Mexico.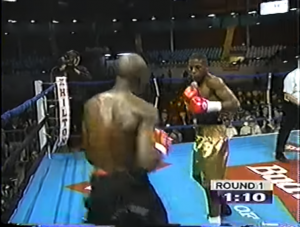 And interestingly enough, even though the matchup wasn't exactly a major test for Mayweather, history was made that night at the Tingley Coliseum.  Floyd Mayweather Jr. was taken the distance for the first time.  Reggie Sanders was able to last the four-round distance with Mayweather and although judges Levi Martinez and William Gantt had Mayweather winning 40-36, one judge (Sandy Pino, a familiar face to fight fans in New Mexico) actually had Sanders winning one round and scored the fight 39-37.   So another bit of boxing history occurred in Albuquerque 22-years ago today and New Mexico fight fans in attendance were able to witness it.
Albuquerque saw the first round Floyd Mayweather Jr. would lose as a professional.
Admittedly a lot of fans were probably not paying much attention to the then young boxer from Grand Rapids who was fighting as a professional for only the second time in his career.  But those who did…well, they witnessed history in the making.  They saw the Beatles with Pete Best on the drums.  They saw Michael Jordan playing basketball in college.  They saw a young Floyd Mayweather Jr. go the distance for the first time ever.  And who knows, maybe they even realized they were watching something special.
There is a fight coming up this weekend in Albuquerque, and although I won't claim that any of the fighters on that card will become the next Floyd Mayweather Jr. I have to admit…back in 2001 I didn't think Floyd Mayweather Jr. would become the next Floyd Mayweather Jr.   So what do I know?  Maybe you shouldn't take my word for it and you should head down to the Manuel Lujan Building in Albuquerque Saturday night just to make sure you don't miss something special.  A week after that show boxing will head to to Odessa, Texas where a pair of undefeated fighters in Desmond Hill and Abel Mendoza are slated to fight in two separate fights at the Ector County Coliseum.  Are either of them the next Canelo Alvarez or Manny Pacquiao?  Most people would say no.  But those are the same people who didn't buy these five empty ringside seats for Canelo Alvarez fight agaist Raul Pinzon in Miami back in 2008.  Don't be the five guys not sitting in those seats on Saturday in Albuquerque or on December 8 in Odessa.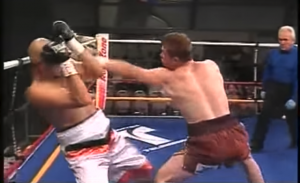 And for those of you who missed Albuquerque's brush with greatness on November 30th, 1996…for those fight fans in New Mexico who were old enough to have gone to that fight card at the Tingley Coliseum and for whatever reason didn't…
Well, all I can say is I feel your pain.
Read more Finger Post Boxing stories here!