The Finger Post Travel (March 27, 2018)
"We got three guns," the curator said of the Bonnie and Clyde Ambush Museum in Gibsville after we asked him what was included with the $7 price of admission. "And Clyde's glasses he was wearing when ambushed."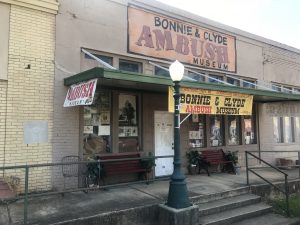 I took a road trip over the weekend with an old friend of mine, former Hollywood actor David James, who was currently working as Deputy District Attorney in Lordsburg, New Mexico. On our way back from Vicksburg we discovered that we were going to pass by the site where the legendary bank robbers Bonnie Parker and Clyde Barrow were ambushed by law enforcement officers from Texas and Louisiana.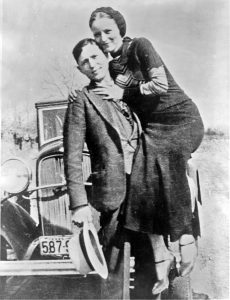 As I would discover, David James had a connection to Bonnie and Clyde: his grandmother ran the switchboard the night that the Barrow Gang engaged in a deadly shootout with police in Dexter, Iowa.  At the time David's grandmother was a young woman in her early 20s and here she was, handling all communications during a police shootout with the most notorious criminal gang in America (this was 1933, before 911 dispatch was used in small towns like Dexter). More likely than not she handled the call that Bonnie and Clyde had escaped…as well as the call that Clyde's brother Buck Barrow had been capture and had been shot in the head.
Our arrival in Gibsland left us underwhelmed  and to be honest, after having been left unimpressed with the two museums in town dedicated to the shootout, we debated just hitting the road back to New Mexico.  Fortunately we decided to make the approximately 8 mile drive to the ambush site.  It was well worth the trip.  It's a quiet stop at the side of Hwy 154 that paints a vivid picture of how isolated the ambush site was…and how it was the perfect place to lay a trap.
Read More Finger Post Travel stories here!