The Finger Post Travel: October 18, 2018
So I spent the Columbus Day weekend visiting my aunt and mom in Philadelphia. Well, Norristown technically, but close enough. And although I didn't get nearly enough time to revisit the City of Brotherly Love, a city I had not visited in well over twenty years (Lions lost to the Eagles in the wildcard when I was last in Philly, with Scott Mitchell as our QB and Barry Sanders as our running back. It was a simpler time before cell phones and the internet…when I still had hope that I would someday witness the Lions win a playoff game).  Although I enjoyed my time in Philadelphia back in the mid-90s, I have to admit, those pre-internet days resulted in a lot of missed stops. I had no clue that Benjamin Franklin's grave was in Philadelphia at the time, or that the debate between where the greatest Philly Cheesesteak on the planet was a unassuming intersection at Passyunk and Wharton. It was there where 2018's internet promised me was the culinary Subway Series between two powerhouses.  It was at that intersection where I would find, right next to each other, the top two places to get a Philly Cheesesteak on earth: Pat's King of Steaks and Gino's.
With an afternoon flight on Columbus Day I decided to give in and try one of these legendary sandwich shops. I wasn't sure which one, but I was leaning towards Pat's. After all, they were the place where the legendary Philly Cheesesteak was "invented" (although let's be honest, I can't help but think that at some point in the great history of cuisine someone put grilled onions, steak, and cheese together in a hoagie roll before 1933). Rival Gino's next door was nonetheless inviting. I tend to find that any restaurant that has police patches hanging up on the walls tends to have good food.  I never met a police officer who wasn't a steak connoisseur, and that seemed a good sign.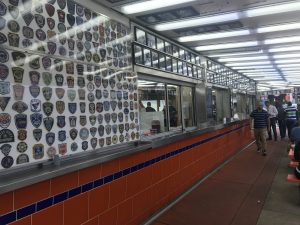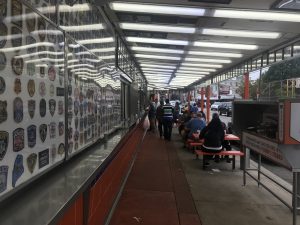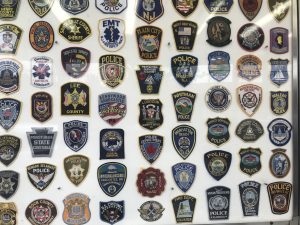 But then again…Pat's invented the sandwich.  How could I say no to that selling point?
In the end I went with Pat's over Gino's…and I hate to say this, but it's like the Citizen Kane of Philly Cheesesteaks. You sort of understand how it opened a lot of doors and how it redefined the field…but it has long since been surpassed by younger, fresher competitors.  The sandwich was OK, I ordered it with cheese wiz as was recommended.  But it hardly seems like the sandwich that could redefine a city. In the end, it just tasted like steak sandwich with cheese.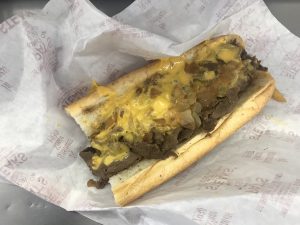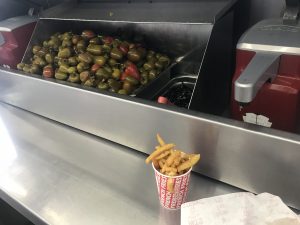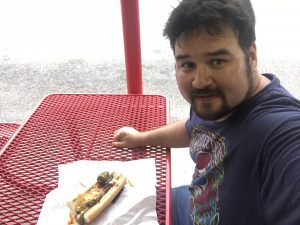 Maybe it can't live up to the hype anymore. I had hundreds of Philly cheesesteaks over the years and some folks tweaked with the formula to make something really special…but also really not a "Philly" Cheesesteak. But my last time in Philadelphia produced a cheesesteak that seemed to put almost all others to shame (oddly enough a place in Taos New Mexico had the best one I ever had, which probably has some folks in Philadelphia reading this fit to be tied).
But as for Pat's…well, I suppose you should still try it. But the peppers were bland and the steak sandwich ultimately was a little salty. No it wasn't terrible, in fact it was good.  But it wasn't legendary.  And with that being said maybe if you're about to try your first Philly Cheesesteak you should start with Gino's. I can't say if they are better,  but I just don't think Pat's is going to blow you away. At the end of the day, Pat's is just a sled from a long gone era.  It's Philadelphia's Rosebud.  Important, yes.  But it just doesn't stand the test of time.
Read more Finger Post Travel stories here!