Travel: Granada, Nicaragua before the storm (June 24, 2018)
I'll be honest, this blog was suppose to be a backdrop. I wasn't planning to write a post on NIcaragua, not now anyways. My 2014 trip to Nicaragua was an amazing experience…but I was suppose to go back in October.  I figured I would be writing about Nicaragua af that time.
With the WBO set to hold its 2018 convention in Managua I knew I would have plenty to write about. I was excited about the prospect of revisiting many of the sites I fell in love with in 2014 like San Juan Del Sur, Lago De Nicaragua, Managua…and what was in my opinion one of the most tourist friendly cities I ever visited in Central America: Granada.
Of course I also wanted to see more of Nicaragua: Bluefields, Leon, and (time permitting) the Corn Islands.  But regardless of if I made it to Bluefields or the Corn Islands, I definitely was going to return to Granada. It was the kind of town that made an impression.
But all that changed on April 18, 2018.  On that day a series of protests against the government of Daniel Ortega kicked off after the Ortega administration implemented a series of deeply unpopular social security reforms.  The protests kicked off in six cities and probably would have teetered out in a few days…but the Ortega regime responded with unimaginable violence that soon triggered a revolution. By April 20 it was clear that these protests had spiraled into a revolt…and that this was the biggest crisis to hit the nation since the end of the Contra War in 1990.
On June 6th the WBO finally pulled the plug. They announced that they would be moving the WBO convention to Panama City, Panama. I couldn't blame them: it was clear by June 6th that the situation in Nicaragua was dire…and this might even be classified as the early days of a Civil War.
Which brings me to this post.
Back in July of 2004 I was living in Sarajevo.  I was doing some volunteer work for an NGO, the International Commission on Missing Persons.  They ultimately didn't have much for me to do so I spent a lot of time doing busy work like researching anything I could get my hands on regarding the war in the former Yugoslavia.  On July 23, 2004 I watched on TV the ceremony celebrating the reopening of the Stari Most (Old Bridge) that became a symbol of the War in Bosnia.  The grainy video of the bridge's destruction by the Bosnian-Croat forces was one of the most heartbreaking images of the war.
But it shouldn't have been.
It was after all only a bridge.  A historic bridge and a beautiful bridge, but ultimately just stone.  It's destruction on November 9, 1993 was a tragedy…but I never could shake the fact that there were already so many images out of Yugoslavia that were so much worse, that the world was all to willing to ignore.  I never could come to grips with the fact that the world seemed to care more for that bridge then it did for the tens of thousands of innocent people killed in 1992 and 1993.
I didn't want Granada to be that way.  As the war takes a dark turn I couldn't help but be worried about the friends I made down in Nicaragua…and the people I met in the city of Granada.  I know it's a bizarre connection but I gave a guy one of my campaign t-shirts in Granada.  It was old and ready to be retired, and he seemed cool with a free t-shirt.  But now I can't help but worry about this guy I don't even know.  I can't help but wonder if there is someone dodging snipers right now in Granada wearing a "Vote David Finger" t-shirt…and I won't lie: it really has me shook up.
Recently I saw this photo posted on Facebook a few days ago and it didn't give me much hope for the future for Granada.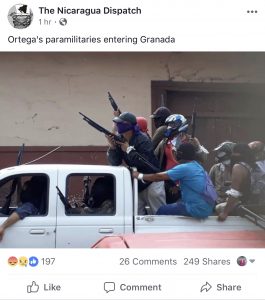 The situation in Granada was already dire prior to this, with some media outlets reporting that the city was in ruins on June 7.   Needless to say it's a humanitarian crisis developing.
And despite my fear over what is happening to the people of Nicaragua, I can't help but admit that to a certain degree I have become that guy watching BBC on November 10, 1993.
I can't help but cry for the city itself.  For the buildings.  For the streets.  For the history.  For the energy.  For all of it.  When I visited Granada the streets were quiet, peaceful…and yet full of life.  Granada was the crown jewel of Nicaragua and they knew it.  When I snapped these pictures in 2014 I never expected it to ever really change.  Not in 2014.  The dark days were in the past for Granada.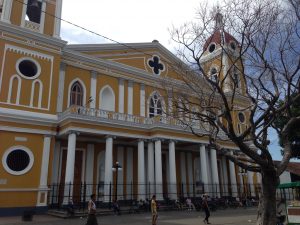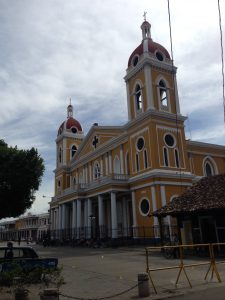 Then I saw this photo from June 6, 2018.
I also remembered my mission for Granada back in 2014…to get a hammock.  Every time I went to Latin America I was always intrigued by the hammocks for sale.  Colorful and handmade, they seemed the perfect souvenir for a Yanqui like me.  And I had committed myself to getting one in Granada.  I saw them for sale on the streets but I also discovered that Granada had an awesome cigar shop that I was told was a place I needed to visit and I decided to make that my first stop.  It had a great selection and an ever better cigar lounge where I could enjoy my purchase.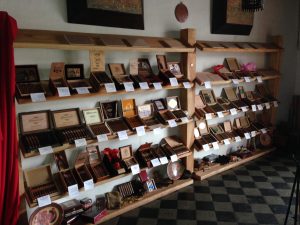 While chatting with the bartender he advised me of a place called Tio Antonio Hamaca (Uncle Antonio's Hammocks).  It was billed as a more social responsible way to purchase your souvenir from Nicaragua, with the hammocks made by a staff of blind or otherwise disabled people.   And their hammocks were amazing.  I purchased one for my back yard and it really was the most comfortable and colorful hammock I ever had.  Unfortunatly when my dogs saw me in it they were prompted to try and recreated Quint's death scene from Jaws and I finally had to take it down.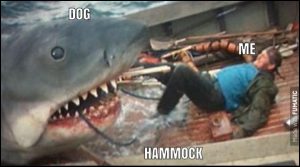 Visiting Tio Antonio Hamaca was an unforgettable experience and I hope and pray someday I'll be able to go back to Granada to find that Tio Antonio is still going strong.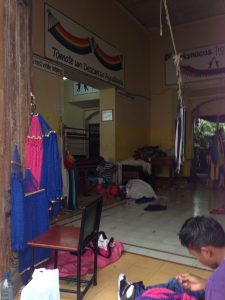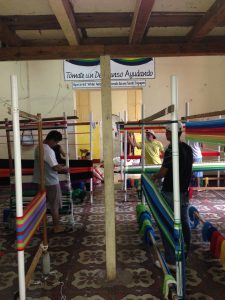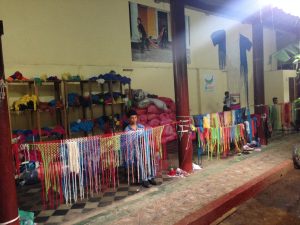 With hammock in hand I made my way back to the hotel, but not before passing through the marketplace again.  It was a vibrant place in 2014…and again, I don't know how it looks now but my assumption is that things are not good.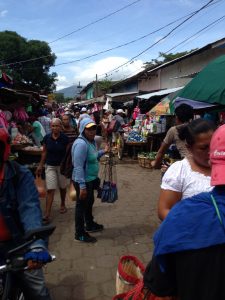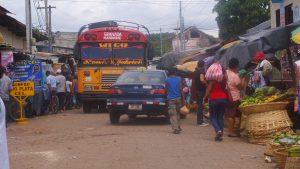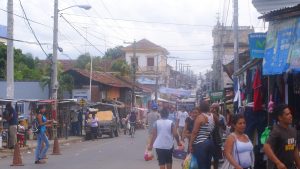 Nicaragua has overcome a lot in the past, and it isn't fair that the past would have to repeat itself here in 2018.  If any country deserved a break after decades of conflict it was Nicaragua, and the possibility of another Civil War is terrifying.  But sadly there is no real end in sight, and the prospects for Granada and Nicaragua look dim right now.
Read more Finger Post Travel stories here!