The Finger Post Travel (July 13, 2018)
"We go to Naypyidaw Mr. Aung!"
My good friend Douglas Williams had invited me to Myanmar, where he had relocated for work several months earlier.  It was an offer I couldn't refuse and after leaving Japan where I covered a WBO mini-flyweight world title fight I decided to take him up on the offer.  He told me of several locations that I "needed" to visit, but I had one destination that was a must visit: Naypyidaw.
Naypyidaw, or NPD as it is sometimes referred to, really is one of the most unusual cities on the planet, a virtual ghost town that has taken on a life of it's own in a most unexpected way.  Although not on the list of "best places to visit in Myanmar" it still fascinated me.  Since construction began back in 2002, the city of NPD has remained a mystery to everyone…even the citizens of Myanmar.  Shrouded in mystery when the ruling military junta announced that it would be moving the nations capital to some empty land in the middle of the jungle, Naypyidaw has become a moderately popular  topic of conversation with folks who find giant post-apocalyptic cities in the middle of the jungle to be absolutely fascinating.
Yeah, with people like me.
So although Mandalay seemed like a cool stop (any place that has a casino in Las Vegas can't be all bad, can it?) I nonetheless let Doug know that the top of my Myanmar list would be the NPD.
He readily agreed and made arrangements for his driver to pick us up.  Mr. Aung was an afiable and likeable driver who spoke very little English but made up for it with his agreeable nature.
But when Mr. Aung picked us up from Doug's apartment in Yangon that Saturday morning I could see his smile break for just a second.
Mr. Aung, I quickly surmised, had no interest in seeing his nation's ghost town capital in the middle of the jungle.
Nonetheless, he quickly recouped and politely advised us that we needed to stop at the mall where we could exchange some money.  I knew we were on a tight schedule but I do have a tendency to let myself get distracted when travelling and, well, this was no exception.
It was a quick stop (by Burmese standards) and a quick change of $100 USD led to me holding a comical, almost Venezuelan, wad of cash.  Myanmar, although not suffering from hyperinflation, seemed to be unwilling to print anything larger than a 5000 kyat note, which equals about $3.50.  (for the record, there are 10,000 kyat notes, I just never saw any in Myanmar, and the 5000 kyat notes were few and far between).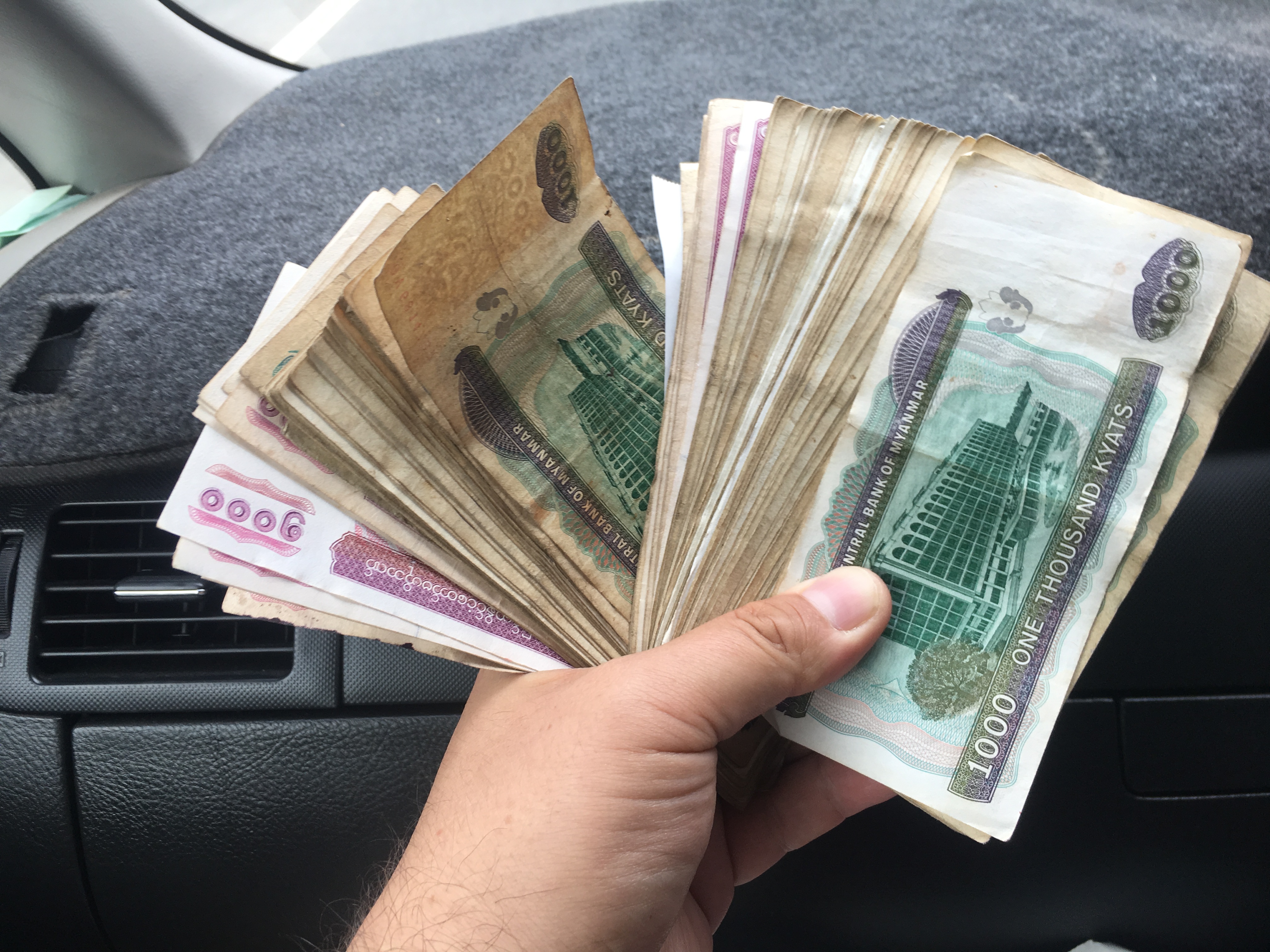 We made our way after changing some money and of course I proceeded to delay things again when I saw the British World War II Cemetery outside of Yangon.  I realized that our departure out of Yangon was now comically behind schedule…but with that being said, I wouldn't have traded the visit to the World War II cemetery for anything.
We soon made our way to the Yangon-Mandalay Expressway, a toll road that stood in sharp contrast to every road in Yangon.  Perhaps discouraged from the toll of 4,500 kyat (or about $3.15) the highway was virtually deserted and we got our first taste of what things would be like in Naypyidaw…a city whose abandoned feel was probably it's most recognizable attribute.
The drive up was…interesting in it's own way.  It had all the feel of an American road trip with betel nut instead of corn nuts.  Several hours in we came to our first rest stop…which was as Burmese as you could get.  We decided to stop at a restaurant and grab a bite to eat.  Up to that point I had been somewhat underwhelmed by the food in Myanmar, and unfortunately the Burmese Alsup's didn't change my opinion.  We grabbed a table and stood in line at something that sort of resembled a cafeteria or a Furr's Buffet.  The food looked decent, but I tended to find the food in Myanmar to be somewhat bland and what we had there didn't change my opinion.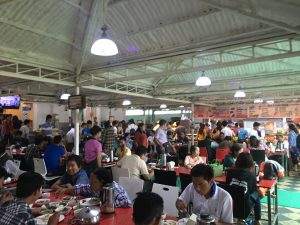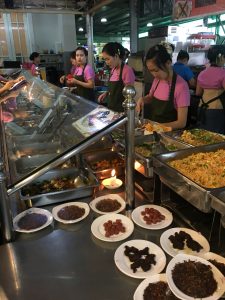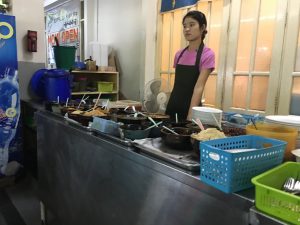 But what it did have was a fruit stand outside…one selling durian.
I have to admit, durian had me a little intimidated.  After watching Anthony Bourdain eating his first durian fruit I was intrigued…but the more I researched the more I started second guessing if I wanted to take it on.  Raw beef from a street butcher in Ethiopia was child's play, raw horse meat in Japan was triple-A at best.  Durian was something else.  It overpowered you…and then it stuck around for a week or two to remind you of what it was like to try and step up to the plate in the big leagues.  It was banned in many hotels and on airplanes…and I was warned that the smell of durian would stay with you for days.  It was like that classic Seinfeld episode.
Still, I knew I wouldn't forgive myself if I passed on this golden opportunity to try durian for the first time.
I headed to the fruit vendor, and briefly chatted with the local monk who was also in the market for durian.  This man was clearly a durian connoisseur and he seemed to give this vendor's durian his official seal of approval, which sort of set my mind at ease.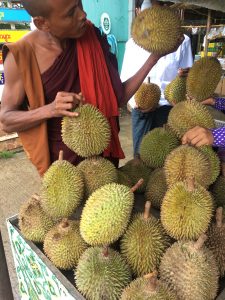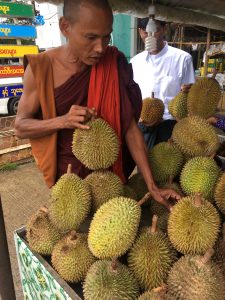 So I quickly picked what looked to be the durianest looking durian fruit and asked the vendor if I could eat it right there.  She smiled (everyone in Myanmar smiles politely, even if they were not at all on board with the plan) and proceeded to cut open the durian I just purchased.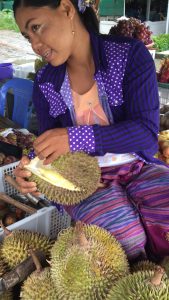 A small crowd soon assembled to see the gringo tackle his first durian fruit, and I couldn't help but again feel like some sort of celebrity.  But I didn't have time to ponder my new found status as the local attraction.  I now had my durian all cut up and I even had a plastic bag on my hand to minimize the all hovering funk that legend had it would follow me back to Yangon and stay with me for a few days after I returned stateside.
It was now time to give durian the ol' college try.
To my surprise…it didn't knock me off my feet.  There was a slightly unpleasant aspect to the smell, but it was not as overpowering as I had been lead to believe.  And the taste was hardly unpleasant at all.  It was perfectly fine, not the best fruit I ever had but it certainly didn't taste like I was eating a wet ashtray off a pair of dirty socks.
We soon made our way back on the highway and within two hours were were on the outskirts of the Nay Pyi Daw.  I could tell that it's reputation as a ghost city was hardly exaggerated.  I couldn't blame the government for planning ahead.  Yangon was in a perpetual state of chaos due to the traffic and the simple fact that the roads were all too narrow.  If Naypyidaw were to emerge as the thriving metropolis that it's planners hoped, these twenty lane roads would be a sign of incredible foresight.  But for right now, they just gave the city a barren and abandoned feel.
The city was widely spread out, with nothing but jungle and nature separating large stadiums and hotels from government buildings and museums.  Mr. Aung decided to ask a local off the side of the road, who oddly enough seemed to go by the name of Chuy (although I was not sure if the New Mexican in me just kept mishearing his Burmese name).  Chuy hopped in and promised to show us the major sites in the NPD, which seemed fine at first.  But as he led up further and further from what I imagined was Naypyidaw's city center I started to get a little nervous.  We were literally going down a two lane road in Naypwidaw.  I had only been in the city for about an hour but from what I could tell, two lane roads were not to be trusted.  Any road that lead anywhere was going to be a minimum of eight lanes.  Fortunately Chuy spoke absolutely no English, which was good since I was very passionately suggesting to Doug that we pull over and drag Chuy out of the car and take off since it seemed very obvious to me that he was taking us to meet up with the Flaming Dragon gang.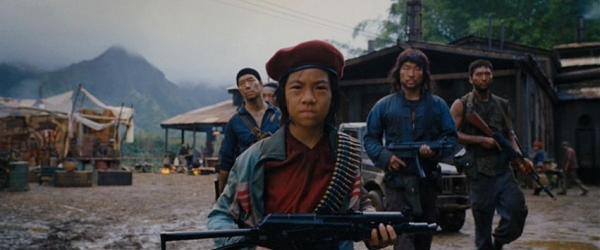 Fortunately for both Chuy and I, cooler heads prevailed and we soon reached our first stop: Myanmar's Buddha Gaya on the Udayayanthi Hillock in Pohbba Thiri Township .  The Buddha Gaya is a recreation of one of Buddhism's most holy sites, and the Burmese spared no expense in creating a beautiful replica.  The Thatta Thattaha Maha Bawdi Pagoda, built in 2013, was an impressive site at 162 feet (just shy of the height of the original pagoda in India) and also sits at the edge of a small replica of  at the Buddha Gaya site say at the edge of a small lake, another replica of the Mucalinda Lake where the Buddha spent six weeks meditating.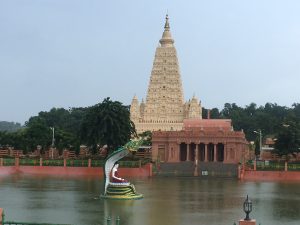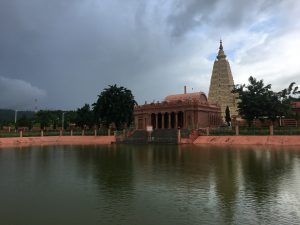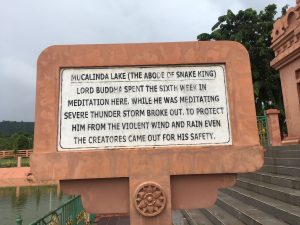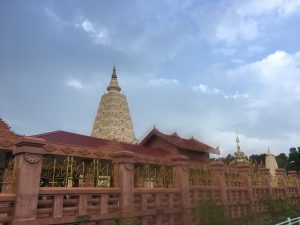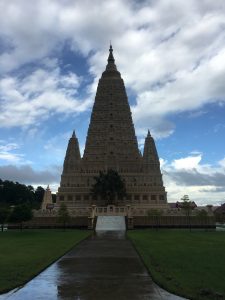 Although it began to rain heavily it was still an enjoyable stop, but Doug and his daughter Madison were getting restless.  Chuy then took us to the second stop on the "random guy we picked up off the side of the road in an abandoned ghost city tour" and by this point Doug was very vocal about what he thought about another round of replica pagodas and stupas.
"These are all fake," he said firmly.  I couldn't disagree.  We were Southeast Asia's own version of Las Vegas…there were no shortages of impressive replicas.  But it was time to stop looking at the Statue of Liberty at New York, New York and see the water light show at the Bellagio.  It was time to go down the twenty lane highway.
As it turns out, I have no idea where we actually were.  My search of every travel site on Nay Pyi Daw came up with nothing on the collection of stupas and smaller pagodas just ten minutes away from the Buddha Gaya.  So I guess if anyone can help me identify where I was I'd appreciate it.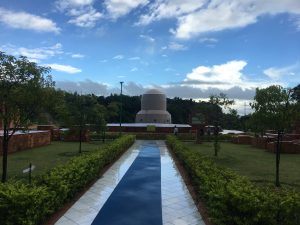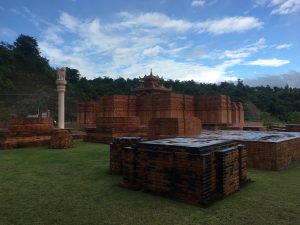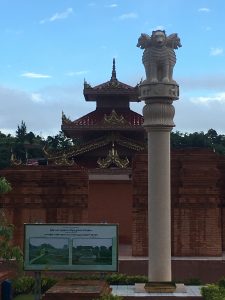 As we made our way back into town I couldn't help but appreciate the size of Naypyidaw,  The Myanmarese military junta that built Naypyidaw was convinced (convinced I tell you!) that the city would eventually fill up with citizens.  And maybe it will.  They really lived by the motto "go big or go home" with the planning of this city.  But for now…well,it was a beautiful drive.  And dare I saw the scenery was unlike anything you'd see in any other nations capital.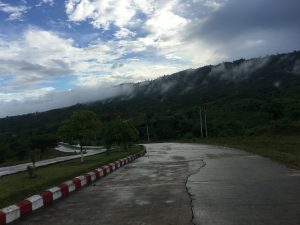 We soon made our way to Naypyidaw's most famous site.  The infamous twenty lane highway.  And let me say, driving down a freeway shouldn't be such a memorable experience.  But it way.  The post apocalyptic vibe was unmistakable as we drove down the empty highway, with only the occasional bus or motorbike passing us in the other direction.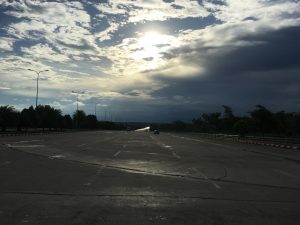 Now for all our protests against "fake" sites, both Doug and I were intrigued by Nay Pyi Daw's most famous site next to the road with nobody driving on it.  The 325 foot tall Uppatasanti Pagoda.  The Uppatasanti Pagoda was Naypyidaw's attempt to rival the Shwedagon Pagoda in Yangon, and although it stood 30 centimeters shorter than it's more historic counterpart in Yangon, it was still a sight to behold.  Doug and Madison elected to sit this one out, leaving me and Mr. Aung to explore the impressive pagoda that housed a Buddha tooth relic from China.  As we made our way up I couldn't help but appreciate the peacefulness of Uppatasanti Pagoda, a notable contrast to the sometimes crowded and hectic feel of the Shwedagon Pagoda.  We were able to wander around unmolested from anyone wearing a "Death Trooper" t-shirt (it's a long story, I'll fill you in on my Yangon update) and we couldn't help but appreciate the incredible view.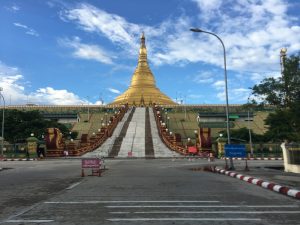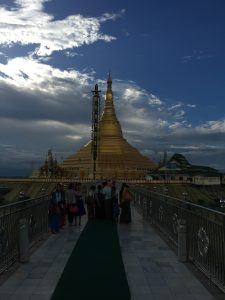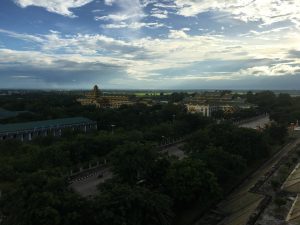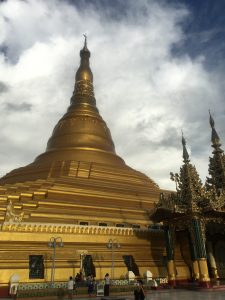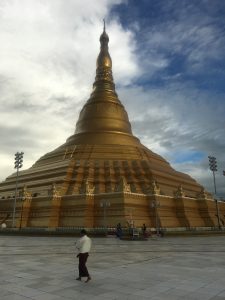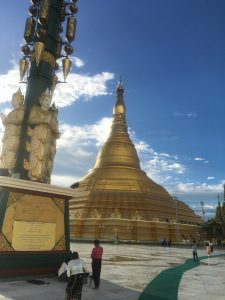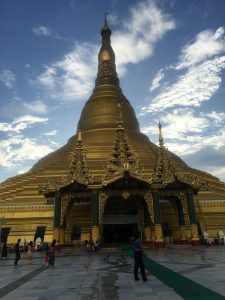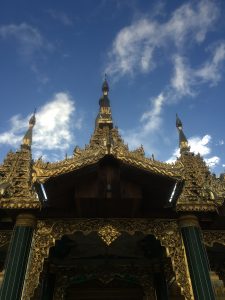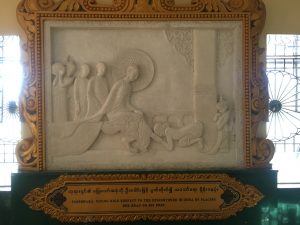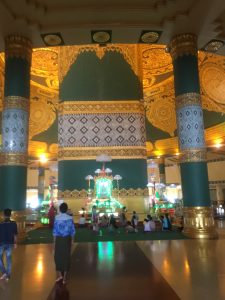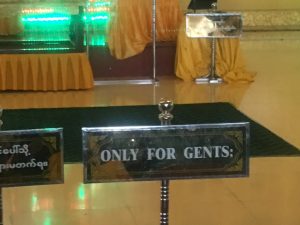 As I headed over to the large bell in the plaza, and as had become commonplace in Myanmar, I was approached by some locals who wanted their photo taken with me.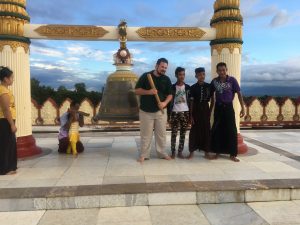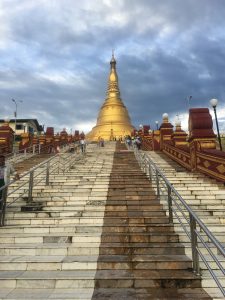 By the time I made my way back to the bottom of the man made hill where the pagoda was I was surprised to see several elephants on display.  I always feel bad for captive elephants, ever since Dumbo had to visit his mom in circus jail.  Elephants are smart animals and they are cursed with that perpetual happy face that sort of masks their suffering, making it easy to dismiss their pain.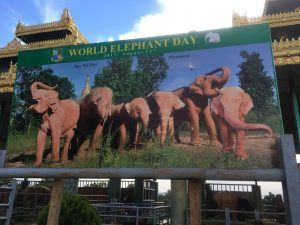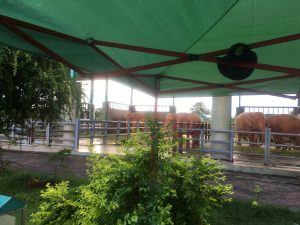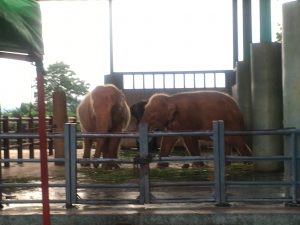 As I left the Uppatasanti Pagoda I noticed a fair number of vendors along the road.  I wondered if maybe, just maybe, the insane plan was actually working.  Maybe, just maybe, people were coming.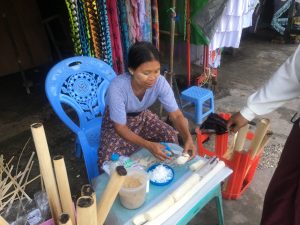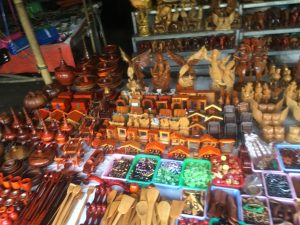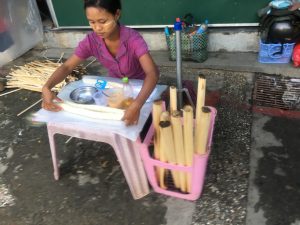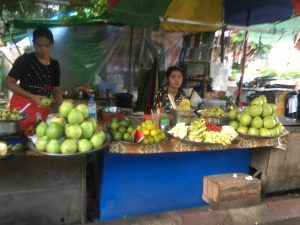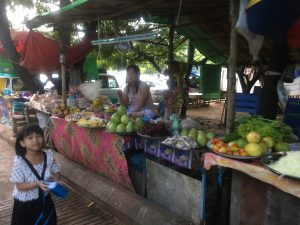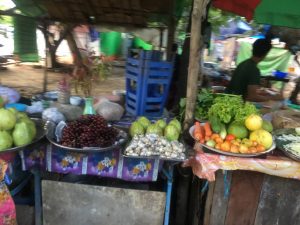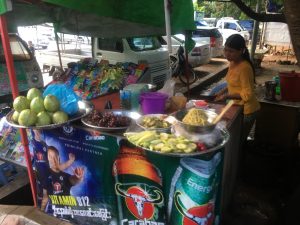 As we made our way back to the van I realized that we were behind schedule.  I wanted to make one more stop, to see the Parliament, but Mr. Aung advised that we couldn't get close to it and we elected to skip it.
In hindsight it was a mistake.  That, not the road, was the Bellagio water show.  That was the highlight.  And we missed it.
The thing is, I don't really think I'll ever go back to Naypyidaw…even though I very much would like to go back to Myanmar.
But who knows.  Maybe I will want to experience "The Road" one more time.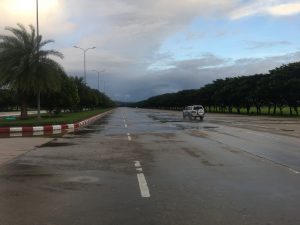 Read more Finger Post Travel stories here!