The Finger Post Travel (May 24, 2019)
If you've never watched Mark Wiens YouTube channel you are really missing out on something special. This guy is living the life: he just travels the world and posts videos of him eating food. Nothing else, but damn if he isn't the culinary version of cat videos: you don't know why, but you can't help but enjoy the simplicity of it. Although he seems like a really down to earth guy, the biggest appeal of his videos is that he really, really loves food. I mean, when he bites into something you can tell it is truly a magical experience with him. Sure, I love good food but after watching Mark Wiens bite into a BBQ rib in Phoenix I realized that he takes food love to another's level.  He's the quirky guy from the romantic comedy who overcomes his fear of heights to get on an airplane and profess his love for Sandra Bullock before she marries Billy Zane. I'm Homer Simpson buying Marge a bowling ball for her birthday.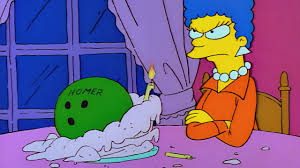 But I digress, this isn't about YouTube food videos, it's about the City of Angels.  After watching Wiens go on a food tour of Los Angeles I realized that I had never really appreciated the culinary scene of LA. I mean, I lived in Los Angeles County, but with a vibrant Korean culinary scene in Rowland Heights (where I lived) I was seldom tempted to go outside my comfort zone and usually elected to eat at one of the exceptional Korean or Chinese restaurants in that city.
But after watching Wiens take a bite out of a pastrami sandwich at Langer's Delicatessen I realized I had been missing a lot the city had to offer…
and I was determined not to make the same mistake again.
So when I visited LA last month I knew that Langer's was at the top of my list of places I had to try.  The more I researched it the more I realized how much I had to try the #19.  Some foodies said it was the second best pastrami sandwich in America (next to Katz's Delicatessen in New York City , which I also overlooked when I was in New York City in December of last year, another mistake I sorely regret).
But there was also Philippe The Original, birthplace of the French dip sandwich  (or so they claim). The French dip was born much like many legendary sandwiches were: by accident. Legend has it that in 1918 the original owner, Philippe Mathieu, dropped a  French roll into a roasting pan full of juices from a roast. It seemed to be a common theme in the early part of the 20th century: legendary sandwiches being born when some restaurant owner dropped something and then went ahead and sold it. Some might have some suspicion over the origin story of the French dip, after all, about the same time that the French dip was born Mexicans would be introduced to another similar accidental sandwich with an identical origin story in: the torta ahogada.  But although it may be difficult to separate truth from myth with the French dip, I tend to embrace the John Ford school of thought when it comes to culinary history: when the legend becomes fact, print the legend
So after a late drop off at LAX I decided to give the original French dip sandwich a try. After all, even if it was the first that doesn't mean it was the best. Hell, there might be a Wrath of Khan French dip somewhere in America that has blown Philippe's out of the water.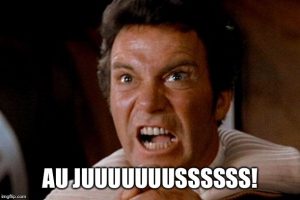 But after having tried the Original French dip sandwich I have a hard time believing I'd find a better one anywhere else. No,  The was the original Jaws, and I had been living my whole life on a steady diet of Jaws the Revenge.  I came in right before closing and was blown away by the atmosphere of the place…but above all by the sandwich itself. The bread was perfectly flaky and the hot mustard there might just be the best condiment I ever had at a restaurant.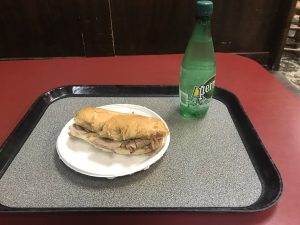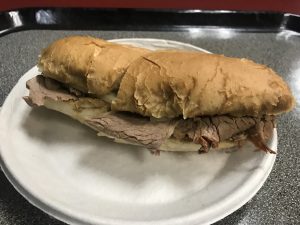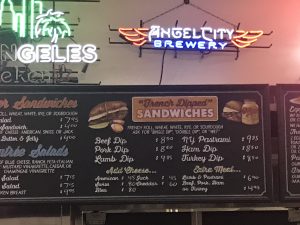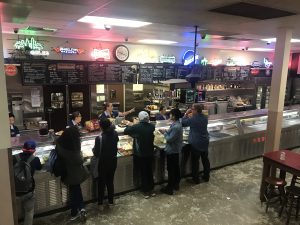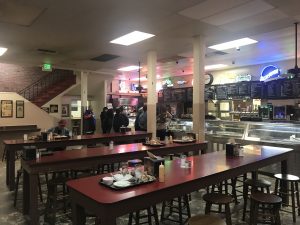 I have to hand it to Mark Wiens, his enthusiasm for this establishment was well placed.
But the best was yet to come.
The following day was going to be my opportunity to try another LA institution in Langer's Delicatessen, home of what was called back best hot pastrami sandwich on the west coast (and to some, the best on the planet).  Outside of Katz's in New York, this was suppose to be the best.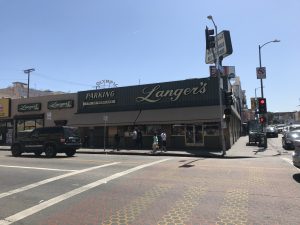 Well, all I can say is that Katz's will have to bring its A-game when I visit New York again because I really have a hard time envisioning I will ever have a better sandwich than the pastrami sandwich I got there.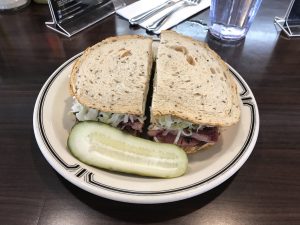 Seriously, this wasn't just the best pastrami sandwich I ever had  this might have been the best sandwich I ever had period.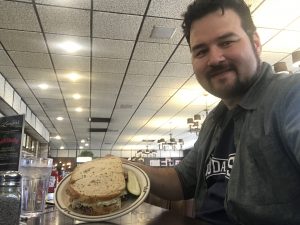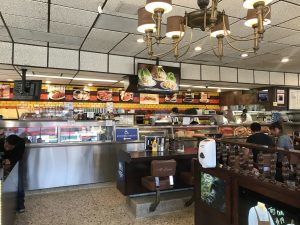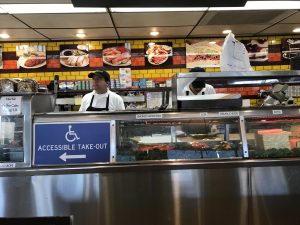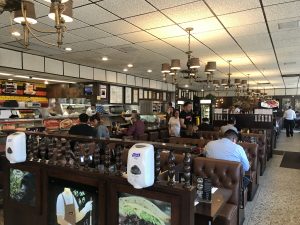 At $18.95 the sandwich wasn't what I would call cheap (although I heard you can easily drop $30 for a pastrami sandwich at Katz's in New York) but it is still very much worth every penny. That first bite isn't something everyone should experience at least once in their life, it's that amazing of an experience.
But there was one more stop I had to make…one more sandwich I needed to try.  Watching food videos on YouTube can easily lead you down the culinary rabbit hole.  One click leads to a recommendation of another.  And then another  and before long you are convinced you need to try a steak cooked with a sous-vide, ribs cooked in a insta-pot, something sweet for the kids, and to try and make the Armenian version of pastrami: basturma.
I watched a few videos of different people making basturma and it looked very much like a labor of love.  Soaking the beef in salt water for over a week, putting a rock on it to drain it of the remaining water, and then after several days letting it cure for another week meant that I needed to commit to almost a month before I couldn't try this dish (that I never ate before and had no idea if I would like).  But the YouTube videos made it seem like something I should try and I began prepping.  My homemade basturma would be ready the week I returned…but I wanted some authentic basturma to compare.  As I say and looked at my basturma in cheesecloth curing in my kitchen I just didn't have faith that I hadn't mess it up and I wanted my first taste of basturma to be legit.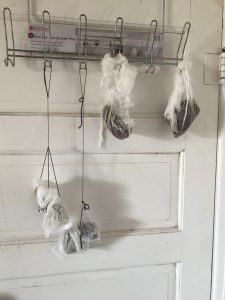 And was going to be just a few miles away from Little Armenia in Los Angeles.
Yeah, this was an opportunity I wasn't about to pass up.
So I made my way to Sahag's Basturma, which was the only place I could find in America that had Basturma in its name.  I was about to try basturma for the first time.  In fact, I was going to try Armenian food for the first time, and although Sahag's was more of a grocery store than a restaurant, it still seemed a great way to start off.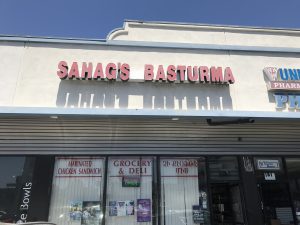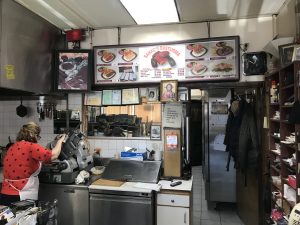 The staff at Sahag's seemed reserved and polite, but not even remotely interested in this American's story of trying basturma for the first time.  After giving me a free sample I realized that basturma is…an acquired taste.  It was a bit salty and the seasoning (called chaman) was a bit overpowering (something I realized since my house smelled like chaman.)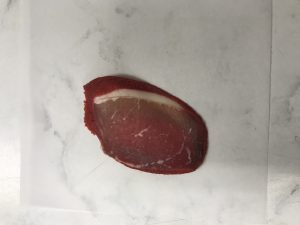 I ordered a pound of basturma for $18 to take home and figured I'd try it cooked.  It was advised to fry it with scrambled eggs and I was not willing to close the book on basturma just yet.  And it was a good thing I did because basturma really, really compliments scrambled eggs nicely.  It was an excellent breakfast and with some Bulgarian cheese it made for a decent sandwich with some lavesh bread as well.
And I also discovered something else by getting some LA basturma:
I really suck at making basturma.
Read more Finger Post travel stories here!