The Finger Post (January 3, 2018)
(Tikal Guatemala, August 2003)
Guatemala isn't a shock to the system…at least not when you are coming in from Belize.  Crossing into Melchor De Mencos you don't feel a sudden change from an English speaking nation with a decidedly Caribbean flair to a unmistakably Latin American nation. No, Belize sort of eases you into Latin America one kilometer at a time.
After several days in San Ignacio, Belize I had already felt like I was very much in Latin America.  Melchor De Mencos was just where I had to stop and get my passport stamped  on my way to one of the greatest archaeological sites in North America: Tikal.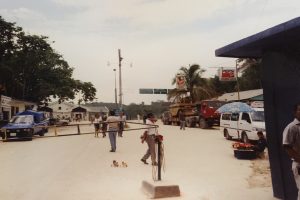 I only spend a few minutes in Melchor De Mencos before I was back on a bus heading to my first stop in Guatemala: the town of Flores.   Flores definitely had a distinctive feel to it: mellow and relaxed but also just touristy enough to make it an easy stop.  I spent the night sat a small hotel on Lago De Perez Itza in the nearby town of El Remate and the following morning it was off to the nearby ruins of Tikal.
Prior to hitting Tikal I had been to the Pyramids of Giza and after Tikal I visited Machu Picchu, but with that being said there is a special place in my heart for Tikal.  After paying my entrance fee upon my arrival at the park my friends Petra and Sylvia hired a Spanish speaking guide.  Although my Spanish was terrible at the time I was fortunate in that Petra was able to translate for me.
Right off the bat I was taken aback by the "parasite tree" which we saw on the path to the ruins.  It seemed like something from a sci-if movie and it gave Tikal an otherworldly feel.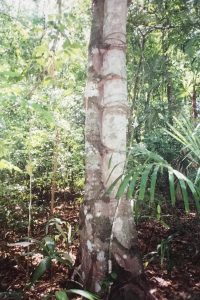 The fascinating thing about Tikal is you can completely understand how Cortes could have passed within a  few miles of it anencephaly not even know it wasn't there.  As big as the complex is, it often is engulfed in the surrounding jungle.  You first see a smaller pyramid before Tikal really comes out of hiding as you walk down the path.  My first stop was the Munro Perdido temple (Lost World) and afternoon climbing to the top I was amazed at how hidden the complex was.  I could see the top of a few temples but otherwise all of Tikal was hidden in the jungle…and this was from smack dab in the middle of it!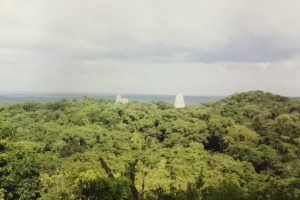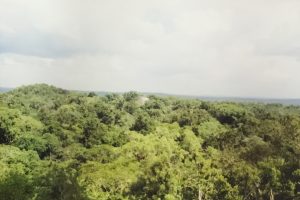 From here I headed to the Temple of the Inscriptions and made my way to the top of that temple next.  Although higher the view, although amazing, still masked the true treasures hidden just a few feet away.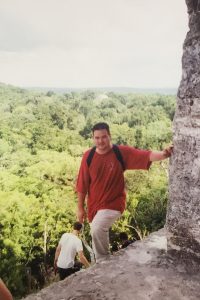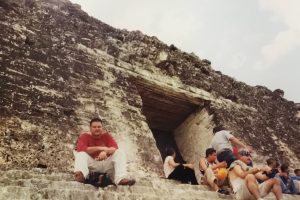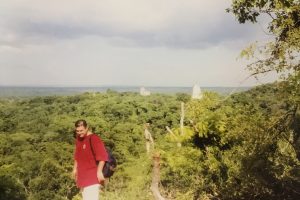 I quickly made my way back to the Plaza De La Gran Piramide o Mundo Perdido before we made it the the most impressive part of the complex: the Gran Plaza where we first saw Temple I.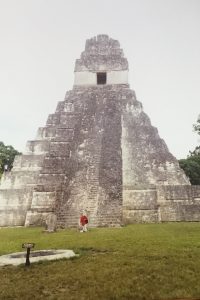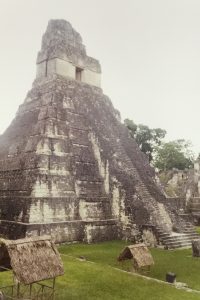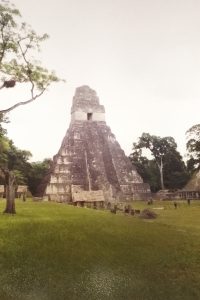 The Gran Plaza itself was an amazing thing to see, but the Temple I was truly one of those breathtaking experiences that is hard to describe.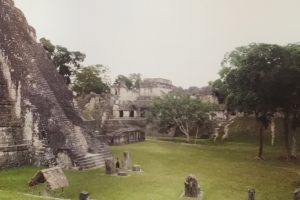 We made our way back into town where I had the opportunity to take a dip in Lago de Peten Itza just outside our hotel at La Casa De Don David before we headed off to our next stop, Coban, Guatemala. From there it was a tour of a Guatemalan coffee plantation at Finca Santa Margarita in the city of Coban.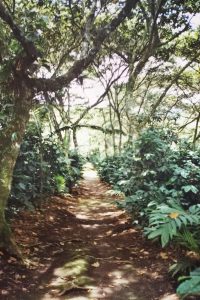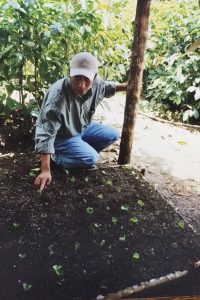 We closed out our trip to Guatamala with a stop in the colonial city of Antigua before I went off to El Salvador. It was an amazing stop but one I wished I had more time to enjoy.  I wasn't told there was some amazing hiking trails around the town. Nonetheless it has been neary 15 years since I went to Guatemala. Maybe this is as good a time as any to revisit the country and backpack though Guatemala one more time…maybe it is time to give Antigua the attention it deserves.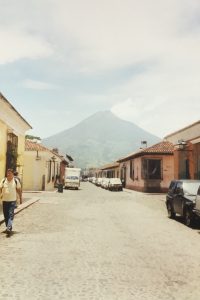 Read more Finger Post travel stories here!