The Finger Post Travel (June 25, 2018)
"I remember when we used to sit in the government yard in Trench Town." –
Bob Marley.
I had to hand it to Bryan Pert…he was undoubtedly the best Airbnb host I ever had.  I had a big day planned: Trench Town and then a very early flight to Miami.  I already made arrangements for a driver to pick me up but even with that I knew I wanted to cram in as much as I could during my last day in Kingston.  I decided a tour would be the way to go when I arrived in Trench Town.  I read that the tours would run about $70-$100 USD, not cheap, but I also read that the community was in dire need of any sort of influx of capital it could get.
Bryan joined me as we made our way to Trench Town by way of route taxi.  I knew I would never be able to figure out the route taxis without Bryan's assistance, and I was appreciative that he agreed to spend the day with me as I toured Trench Town.
As we made our way into Trench Town I was blown away.  It was undeniably a city mired in poverty, and the scars of the the political instability of the 1970s were considerably more evident than in the rest of Kingston.  But it also had an energy to the place and an unmistakable identity.  This wasn't the Caribbean.  This wasn't Jamaica.  This wasn't even Kingston.  This was Trench Town.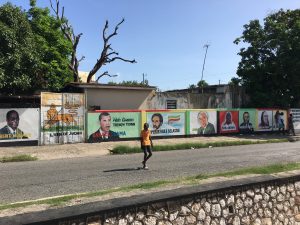 To my surprise we stumbled upon a Trench Town funeral or memorial service, which was really an unexpected experience.  Young Jamaicans rode their motorbikes loudly up and down the main road revving their engines and attracting attention from far and wide.  Interestingly enough nobody complained.  On the contrary, people began to stream out of their homes to pay their respects to the departed.
I won't lie, this was not what I was expecting.  Revving motorcycles during a memorial service seemed like something you might stumble upon in Sturgis, but not in the birthplace of Reggae.
We then made our way to the Trench Town Cultural Yard and I was happy to discover that the tickets would not be in the neighborhood of $100 but would instead be only $20 for a 90 minute tour.  I readily signed up and my tour guide took me down Lower First Street where I would get my first glimpse of life in Trench Town.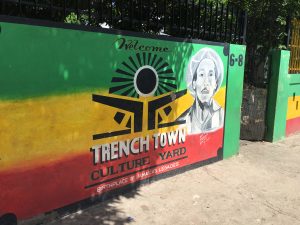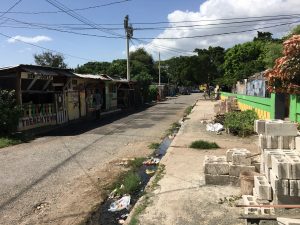 Right off the bat I realized that they were not exaggerating when they spoke of the crippling poverty in Trench Town.  Just a few hundred feet from the Trench Town Cultural Yard I saw how different life was for Jamaicans here in comparison to the other parts of Kingston I had been in.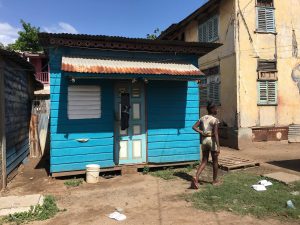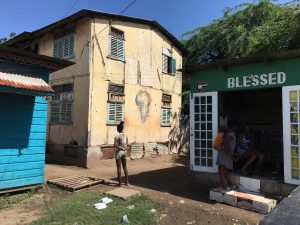 I felt somewhat voyeuristic snapping pictures although my guide assured me that it was OK.  Still, this was the birthplace of one of the world's greatest musicians.  I wanted to get as many pictures as I could.  After all, these were all buildings that a young Bob Marley and a young Peter Tosh walked by regularly.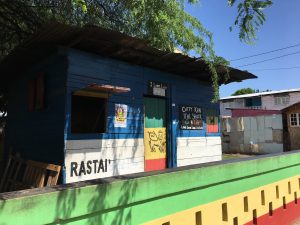 Of course no trip to Trench Town would be complete without some murals of Emperor Haile Selassie.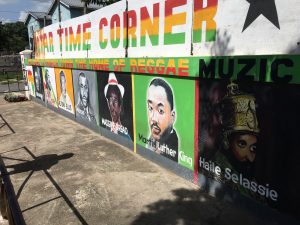 We turned right on West Road and then turned on 2nd Street where I would finally see it: a lyric in stone.  There was a (not necessarily thee) government yard in Trench Town.  I won't lie, my heart skipped a beat as I pictured a young Bob Marley and a young Georgie would light up the fire light.  It was here (maybe, probably not) where they would cook corn meal porridge…and here (maybe) where one of the greatest lyrics in music history was born.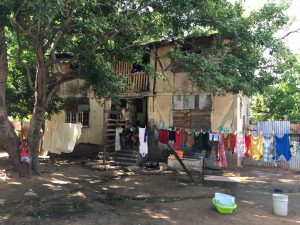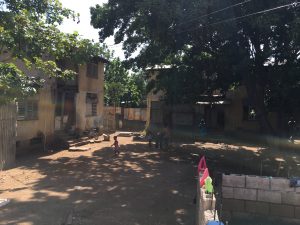 My excitement soon was stifled somewhat.  This was not a museum.  It was a government yard in Trench Town.  People lived here and they lived in abject poverty.  I was a tourist snapping pictures of their lives, seemingly indifferent to their struggle.  I realized that I would never really get it.  I remember hearing a story about an old confederate veteran who was asked to give a "Rebel Yell" to a young woman who was curious to hear what it sounded like.  He declined, saying that he couldn't do it justice, not with a full belly.
I would never be able to really connect with Georgie, as much as I wanted to feel that moment…I couldn't.
All I could do was take a picture at Gettysburg and imagine what those men went through.  All I could do was was take a picture near the fire light.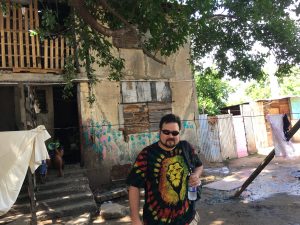 We soon made out way to the corner of 2nd Street and our guide soon shared more of the history of Second Street before we made our way up to Third Street.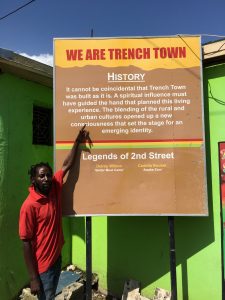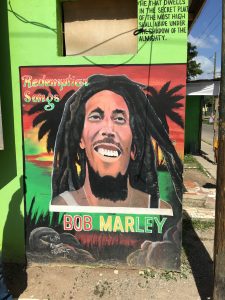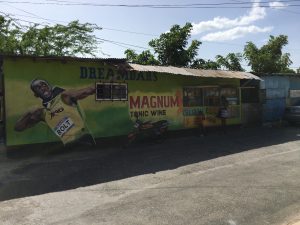 We continued to tour Trench Town itself and I was impressed by the unmistakable spirit of the place.  It was very clearly a rough place…but it wore its identity on its sleeve with unmistakable pride.  In the murals they celebrated their identity…and their history.  A recognition that Trench Town was, in many ways, the beating heart of all of Jamaica.  Negril and Montego Bay might pull the tourist, who would never see the grinding poverty of Trench Town first hand.  But they, like I, were in many ways drawn to Jamaica because of Trench Town.  Because Trench Town gave the entire nation an identity that was unmistakable.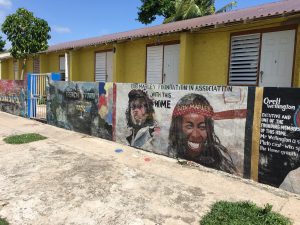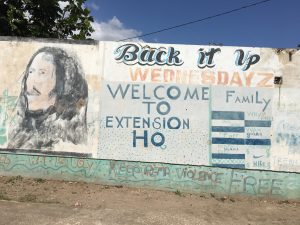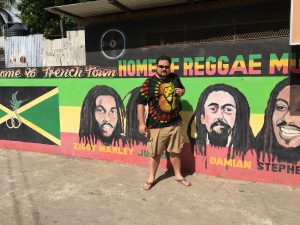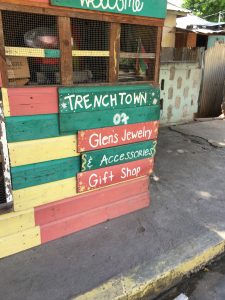 We headed back to the Cultural Yard where I would get a chance to check out Bob Marley's old Volkswagen van, but first was a stop to Trench Town's community music studio which appeared to be inside of a school where a religious revival was taking place.  It was there Bryan and I had a chance to meet the Jamaican reggae artist Lanz, who was working on a new album.  I got to hang out with Lanz for a little while and bought a demo from him.  It wasn't bad, but after burning it to my computer I gave the demo to Bryan, who I could tell was really digging the vibe of it.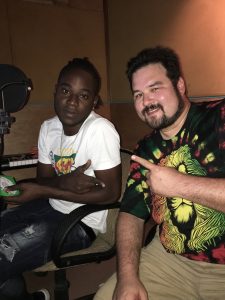 Recently I noticed Lanz was on tour with stops in the United Kingdom.  Who knows, maybe he will take off and young folks with be envious of the fact that I actually met him and hung out with him.  After all, what's cooler than elected officials meeting musicians that they never listened to?
Leaving the studio we headed back to the Cultural Yard, but not before another quick stop at what appeared to be an Icelandic grandstand.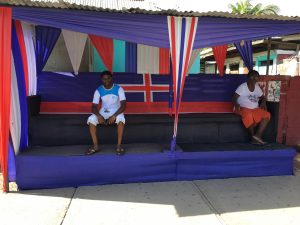 We had a new tour guide for the Cultural Yard, where I was able to see what they claimed was one of Bob Marley's first guitars as well as his former Volkswagen which  I was allowed to sit inside it, which was a cool experience to say the least.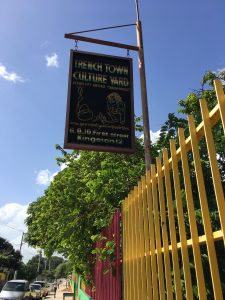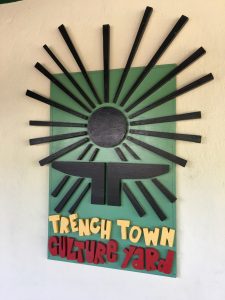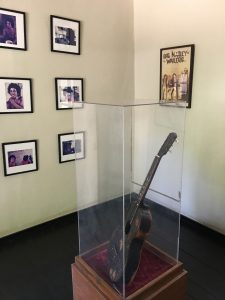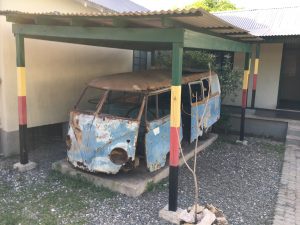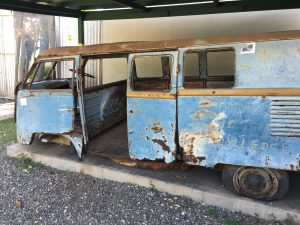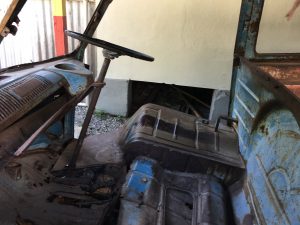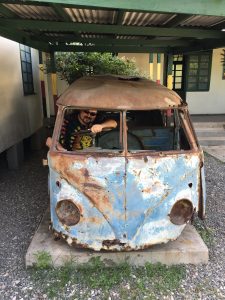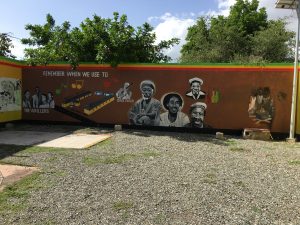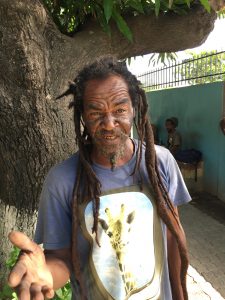 It was now time to make our way back.  I was lucky in that Bryan knew a few other places that I could squeeze in before I had to go to the airport.  We started with Emancipation Park before making our way to Devon House, where I would have the chance to try what many claimed was the best ice cream in the world.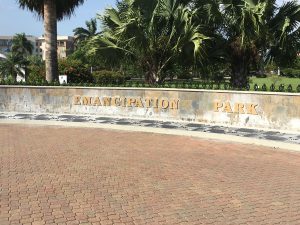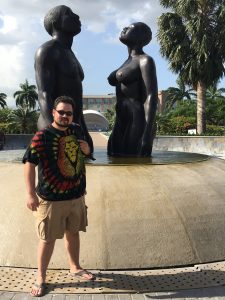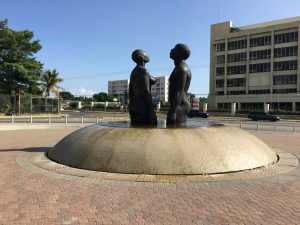 Devon House (the former residence of Jamaica's first black millionaire) was a perfect way to close out my trip to Jamaica, and yes, the ice cream at Devon House I Scream was indeed some of the best ice cream you'll ever have.  They even had some sort of old car show going on, which added to the charm.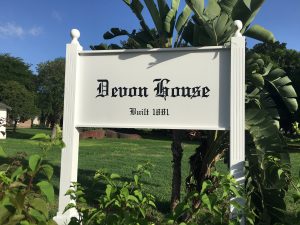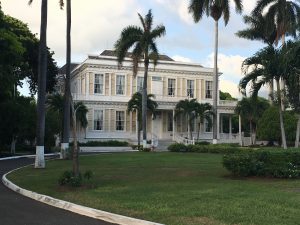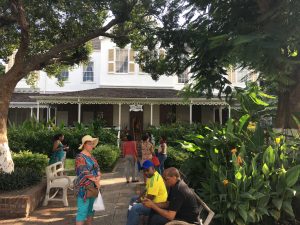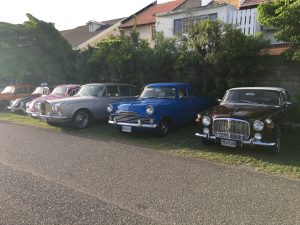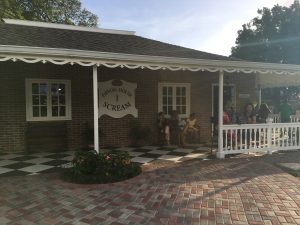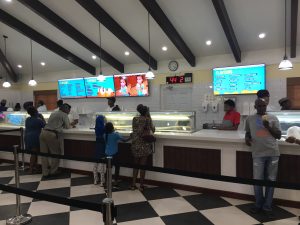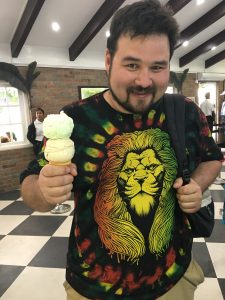 But I couldn't help but notice the sharp contrast between Trench Town and Devon House.  Devon House was prim and proper and would probably be played by Billy Zane in a movie.
I left Devon House to return to Bryan's Airbnb where I quickly packed up before taking a nap.  He arranged an early pick up for me and I would need to get some sleep before I left.  But I knew that Trench Town, and Jamaica, had left a mark on me.  I didn't know if I would ever be back to Jamaica.  Maybe someday I'd be on a cruise ship that stopped in Montego Bay or Negril…but Kingston?  Doubtful.
But I felt like I made the most of my time in Jamaica, and I couldn't ask for a better host in Bryan Pert.  In the end, I was glad that Georgie's firelight led me to Kingston.
Read more Finger Post stories here!