The Finger Post Boxing (December 29, 2018)
The North American Boxing Federation released their December rankings last week and boxing fans in New Mexico will be pleased to see two of the state's best fighters ranked by the regional sanctioning body.
In the Super Welterweight division Las Cruces' Austin Trout (31-5, 17 KOs) moves up to #2 in the NABF rankings.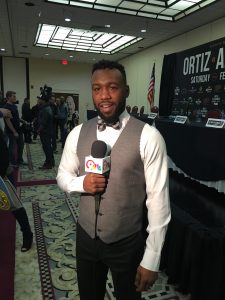 The current champion, Carlos Adames (15-0, 12 KOs), is currently scheduled to fight next month against Juan Ruiz.   Although it is doubtful that Adames's management would let him step in the ring against the more seasoned Trout at this stage of his career, it is not out of the question either.  For Trout a world title is clearly his first priority, but a NABF title could be just the thing that propels him into a match with newly crowned WBC world champion Tony Harrison.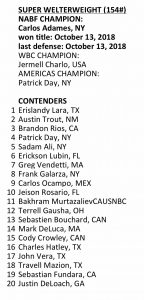 In the featherweight division undefeated Jason Sanchez (13-0, 6 KOs) moves into the NABF rankings at #19.  It's not as noteworthy as the #15 world ranking Sanchez has with the WBO but it is still an impressive distinction. After all, Sanchez never fought for a WBC belt and in fact is the current WBO Youth champion.  The fact that he is moving into the NABF rankings despite not fighting for any WBC regional belts means he is attracting attention from a lot of movers and shakers in the sport.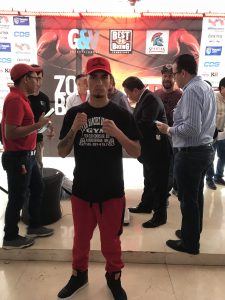 Interestingly enough, at #17 in the NABF 126-pound rankings is Phoenix Arizona's Francisco De Vaca (19-0, 6 KOs).  It goes without saying that Southwest boxing fans would love to see the two undefeated prospects square off in 2019.  The current NABF champion is undefeated Manny Robles III (17-0, 12 KOs) out of Los Angeles.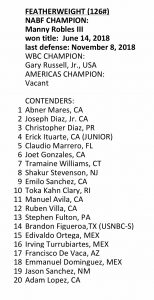 Our neighbors up north in Colorado also were excited to see undefeated Juaquin Trinidad Camarena (8-0, 8 KOs) of Denver move into the NABF rankings at #20 in the super bantamweight division.   Trinidad is the son of Donald Camarena, a talented former contender who once held the WBC Continental America's Super Lightweight title in 2005.  However although Trinidad's competition hasn't been particularly outstanding, from what we've seen so far Trinidad has a lot of his dad's boxing skills coupled with some serious punching power.  He is certainly a prospect worth keeping an eye on in 2019.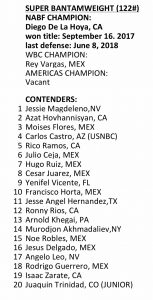 Read more Finger Post Boxing News from New Mexico here!