Finger Post Boxing: Ghana comes to Havana at the Rafael Trejo Boxing Gym 
October 24, 2017
It's hard to pinpoint what would be the closest thing to boxing's Mecca, but a strong argument would have to be made for Havana, Cuba. It is arguable that there is no other place on the planet where boxing has as strong a fan base, thanks in large part to Cuba's success in the Olympics. Since 1968 Cuban boxers have won gold an astonishing 38 times, and almost all of those fighters have developed their world class skill in one of the most famous boxing gyms the world over: The Rafael Trejo Gimnasio de Boxeo in downtown Havana. It is a boxing gym that has seen their share of world class fighters over the years.
Well, you can add one more to the list.
Accra, Ghana's Isaac Dogboe stopped off this afternoon (October 24, 2017) to do some pad work and breath in the atmosphere that is Cuban boxing. And after several rounds of shadow boxing and on the pads it was clear that quite a few of the local kids who gathered to watch Dogboe workout were now fans of the undefeated junior featherweight contender. And perhaps more notably, the coaching staff at the Rafael Trejo Boxing Gym were impressed with Dogboe as well.
"He's strong," one of the coaches said as he watched Dogboe from ringside. "And very fast."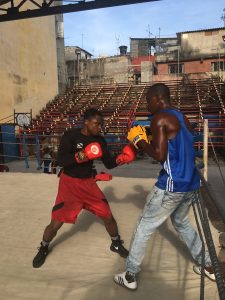 Dogboe was appreciative of the opportunity to workout at the historic gym.
"This is a famous gym in Cuba," Dogboe said after his workout. "The (WBO congress) general meeting and afterwards we landed in Cuba. We were touring around and we discovered this place and we thought why not? We have boxing gloves in our bag."
Dogboe was nonetheless humbled to have worked out in such a legendary gym.
"Home of champions indeed. It's no different from Ghana. I came here to try their system of training. That's why the excel. It's practice and repetition. I just remembered my father. You do one ting over and over and over again…that's what makes you perfect."