The Finger Post Boxing (October 9, 2017)
Some of you may have heard the reports that WBO junior featherweight champion Jessie Magdaleno has pulled out of his November 11th title fight against #1 contender Cesar Juarez.   Well, Jose Luis Camarillo with notifight.com has added an interesting twist to this story.  He is reporting that Juarez and his team are looking to approach WBO President Francisco "Paco" Valcarcel about fighting the next available contender on November 11th…for the interim title.   The #2 contender is Marlon Tapales (30-2, 13 KOs) from the Philippines, a former bantamweight champion.  Juarez-Tapales would normally be seen as a pick 'em fight, but the likelihood of Tapalas being able to properly prepare for a title fight against Cesar Juarez on such short notice seems slim.  Unlike with what we saw in New Zealand earlier this year (when Razvan Cojanu filled in for Hughie Fury at the last minute in a WBO title fight against Joseph Parker) there is the consideration of if Tapales has enough time to make weight as well.  I am assuming that any decision on the 122-pound title would not be finalized until the 2017 WBO Congress, which will take place from October 23-26.  If they agreed with Juarez, that would give Tapalas just over two weeks to get ready for a world title fight on the 11th.  But that is assuming they try and keep the November 11th fight date.
And herein lies the real drama, because most likely the October rankings will be decided during the Congress, and nipping at the heels of Tapalas is the WBO #3 ranked contender, undefeated Isaac Dogboe from Ghana.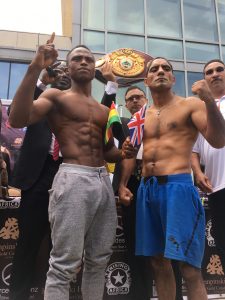 If the WBO concurs with Cesar Juarez and decides to allow Juarez to fight the next available contender for the interim title (and that's a big if) they could end up going with Dogboe, who last fought for the WBO International Title back in July (Tapales has not fought since April in a defense of his WBO bantamweight title, as has yet to fight at 122-pounds).  This in turn could force Tapales to take an ill-advised November 11th fight…if he thinks Dogboe may leapfrog over him in the world rankings during the WBO Congress.
Now Tapales is a road warrior (his last three fights were in hostile territory, and two of them were world title fights) so I am sure if anyone in boxing could and would take a world title fight on two weeks notice against a Cesar Juarez, it is Tapales.  But don't rule out Team Dogboe just yet.
Regardless of how things pan out, the last day of the WBO Congress will undoubtedly be a nail-biter for boxing fans in the Philippines and Ghana both.
Read More Finger Post Boxing stories here!