The Finger Post Travel (October 14, 2017)
(Havana, Cuba, July 1-5, 2016)
This article was originally published in the Lovington Leader, September 17, 2016
The heat hits you the moment you step off the airplane.  A sharp humidity that reminds you immediately that you are not in New Mexico anymore.  From there the second thing to hit was the bureaucracy.  The immigration check, normally a formality for Americans travelling overseas, became a nail biting experience as an older man in a military uniform pulled my colleague, photographer Christopher Mills, out of the lineup and to a room in back.  I had heard of the stories of what happened when you were escorted by the secret police to a "back room" in communist countries and I would be lying if I said I wasn't worried.
Eventually Mills was released, but not before being asked "do you expect us to believe this is you?!" as the military officer reviewed his passport photo.  Mills, a local attorney in Hobbs, was able to plead his case and convince the Cuban government that he was not an illegal immigrant trying to sneak into communist Cuba on a forged American passport.  The idea was so preposterous that neither of us considered the possibility…until it happened.
Once we got out of the airport we encountered our second taste of communist bureaucratic inefficiency.  Our flight from Mexico City had landed at the same time as a flight from Toronto.  It was as close to being rush hour for the tiny Havana airport.  But every currency exchange booth was closed sans one…and the guy working it was in no hurry to help the over 200 tourists and journalist looking to change their money.  We realized we were looking at a wait of at least two hours to change our US dollars into Cuban convertible pesos.  We approached a cab driver and asked him if he would take US dollars as opposed to pesos for a ride into town, something that was technically illegal.  He didn't hesitate.
Our first night in Cuba was an education to say the least, but we still had a fighter to interview.  Former IBF featherweight champion Yuriorkis Gamboa had done the unthinkable.  Back in December of 2006 Gamboa was a hero in his native Cuba.  An Olympic gold medalist in the flyweight division in 2004 Gamboa was expected to repeat the accomplishment in 2008.  It was even widely reported that he was Fidel Castro's favorite boxer.  But in 2006 the Cuban national team had been sent to Hugo Chavez's Venezuela for an opportunity to train with the Venezuelans.  Gamboa saw his opportunity.  He snuck out of camp with two other fighters one night and in a story that rivaled some of the greatest Cold War stories of escape, Gamboa made his way to the Colombian border where he announced his intention to defect to the West.  Fidel Castro's favorite fighter had made no secret why.  Even with a gold medal he had been unable to escape the crushing poverty in communist Cuba.  The one time favorite of Fidel Castro had been forced to sell his gold medal for $1,500 to help his family out.
When I was a young man the stories of the defectors from the Eastern bloc fascinated me.  As a child I remembered watching a film about a family from East Germany who escaped to the West using a homemade hot air balloon.  The film was widely forgotten after its release in 1982 but it always left an impression with me about the lengths that people would go to reach freedom.  And one of the world's most famous defectors would be granting me an interview.  Only he was granting me an interview in Cuba…the nation that he risked his life to escape!
Gamboa, Cuba's own prodigal son, has decided to go back to the country of his birth after obtaining US citizenship.  Relations had normalized and he still had family and friends in Cuba.  There was once a time when fleeing Cuba or the Soviet Union meant you could never return.  But Gamboa had seemingly proved that things had indeed changed in Cuba.
Unfortunately we missed him by a week.  Gamboa had originally planned to be in Cuba when we were there but he was forced to reschedule.  And out visit to the world famous "Rafael Trejo Boxing Gym" in Havana was not as informative as I hoped.  Most of the trainers and fighters were in Rio for the Olympics.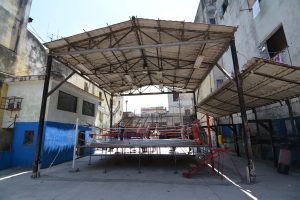 But it was still a humbling moment.  Unlike American gyms where the equipment was often changed periodically, the boxing equipment in the Rafael Trejo gym was weathered and held together with duct tape and Cuban ingenuity.  Much like the American automobiles from the 1950s that still can be found all over Havana, the boxing gym was full of equipment that was several decades old.  As I put on the gloves and did a round on the heavy bag I couldn't help but wonder "did the greatest Olympic boxer in history, Teofilo Stevenson, hit this very same punching bag some 45-years ago as he prepared for his first Olympic competition in Munich?"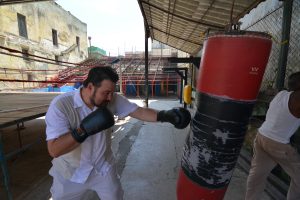 Visiting Cuba for the Lea County resident isn't as daunting as one would expect.  Flights directly from the United States have kicked off, although the easiest (and cheapest) option remains flying out of Ciudad Juarez.  Our tickets over the 4th of July ran just under $400 round trip.  However as an American your purpose for travel needs to fall within one of 12 "special categories" as defined by the United States government.  For Mr. Mills and myself we were going as journalists, but while down there we met a handful of Americans visiting Cuba under some of the other special categories.  Some were there as part of an organized tour (with was considered a cultural exchange).  We even met a school teacher from Florida named Paul who took a job teaching in Havana (educational activities).  Paul was an outgoing and likeable guy who made no secret of how much he loved living in Havana, a place where he would buy lobsters from the beach for under a dollar (no that's not a typo).  Besides eating lobster like it was ramen noodles Paul also spent his time in Havana posting photos on Facebook.  And by posting I mean posting a lot.  This was something that both Mr. Mills and I found fascinating.  Meeting locals we were often asked if we had a Facebook page.  In a country where the media was heavily regulated and controlled and where information was censored, it seemed that the internet was pretty much unregulated.  Sure the government tried to impose some restrictions (such as requiring you to use expensive internet access cards that were next to impossible to find legally).  But there were no shortage of Cuba entrepreneurs that were willing to feed the insatiable appetite that most tourist had for internet service.  Mills and I purchased an internet access card from a young man outside a hotel and went to the rooftop restaurant to check our email.  But email and Facebook was hardly a luxury for only the tourist.  Cubans still had access to the internet and Facebook, a place where they could obtain almost all of the information that was unavailable to them through the local media (as well as all the cat videos they could ever want to watch).  It was another example of how the government was trying desperately to control the flow of information only to fall far short of that goal.  When I got online I decided to do a google search on Fidel Castro.  To my surprise the results were not censored.  And although Wi-Fi was a rare commodity, outside every tourist hotel with Wi-Fi you would see close to a hundred young Cubans standing or sitting near the hotel entrance staring at their phones.  The young people were trying to catch a Wi-Fi signal and get online.
A lot of people have asked me what Cuba was like, and it's hard to give them a satisfactory answer.  It is clearly a land of contrasting ideologies.  It feels like a place stuck in time but every now and then you are reminded that they are running head first into the 21st century.  It is a place where you will see an old Chevy Bel Air driving down the street…right past a shiny modern double-decker bus full of tourists snapping pictures of the Bel air with their digital cameras.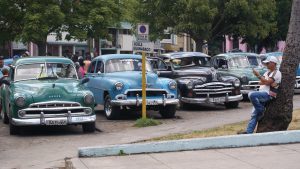 If you are lucky enough to ride in an old Edsel or Chevy (as we were) you might be surprised to discover that the original radio had been gutted and replaced with a new stereo system with a USB port and a smartphone plugged into it.  As an old car enthusiast a part of us was shocked and disappointed.  But for the local Cubans this peculiar contrast was not peculiar at all…it was just life.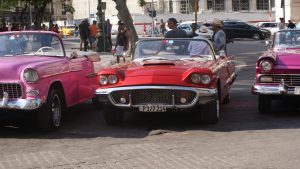 The people of Cuba are some of the friendliest I've ever met travelling, and they possess an indomitable spirit that is hard to describe.  They are fiercely proud of their country and their history, rightfully so, but they are also hungry for change.  There is no question as you walk through the artist's marketplace that capitalism has taken a hold, if not with the government then in the hearts and minds of the artists who will negotiate aggressively for the highest price as you browse their paintings.  Every dollar you spend buying their artwork is a dollar that they keep.  A dollar that they can spend on their family.  A dollar that they earned.  And that is something fascinating to witness firsthand.  That someday very soon the Cuba we know will be forever changed.  The dying ideology of communism will disappear from the island and capitalism will be as much a part of the Cuban experience as it is for the rest of the planet.  For many in Cuba that day will help bring the country up from poverty and help Cuba reach its undeniable potential, but it won't come without some sacrifices.  The country may look a lot different for the both Cubans and tourist when that happens.  The old 50s made American cars that are as common on the streets of Havana will probably be a thing of the past as collectors gobble them up.  But the benefits would almost certainly be a welcome change to the Cubans.  There is something reassuring and dare I say amusing to know that the seeds of capitalism and democracy are currently taking root in Cuba despite the best efforts of the government.  You can find proof of this in the street artist who as embraced the free market and who is trying to sell you one of his paintings…of Che Guevara.
Read more Finger Post Travel stories here!